What to Drink on New Year's
Here comes New Year's Eve and it is time to party! Who doesn't love staying up half the night to ring in the New Year?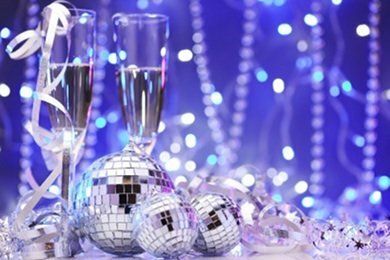 I guess I should admit right now that I will be asleep at midnight and I might have a cup of tea. That doesn't mean that you shouldn't get your party on! Shake it, shake it, shake it. The question is what are you going to drink?
Let's go over some drinks you should avoid:
Egg nog
Frozen Margaritas
Coffee drinks with cream in them
People, these are calorie bombs and you don't need them to enjoy yourself. Egg nog is over 10 SmartPoints for Weight Watchers members and I am avoiding it.
If I was going to party, I would be choosing bubbly. Champagne, Prosecco, Cava, sparkling wine, whatever you call it has a mere 90 calories for a glass and it is SO festive. How can you go wrong with all those bubbles?
Put some pomegranate seeds in the Champagne glass to make the drink more glamorous.
For those margarita loves give my lighter margarita a try or if you like beer check out my light beer reviews.
You can drink 3.5 glasses of champagne for every one cup of egg nog that you didn't drink. Don't drink that many though because you might fall down and hurt yourself. Of course, there is Silk Egg Nog and some other lower calorie options (but I can't go there).
If you don't find that champagne is sweet enough for you just add a wee bit of "Creme de Cassis" or black currant flavored liqueur and you get a lovely pink color and sweet flavor. Or just drop in a sugar cube (15 calories) for a great effect.
Snack Girl advises her younger readers to refrain from drinking alcohol until they are 21 years of age.
How do you deal with New Year's Eve alcohol consumption?
---
Other posts you might like:
---

Guess what I did yesterday? BUUUUURRRRRPPPP....
---

Despite what you may think, Snack Girl doesn't spend a lot of time hanging out in liquor stores....
---