These Are The Carbs to Avoid
After posting about a higher fat, lower carb diet leading to weight loss, I was asked many questions about which carbs to avoid.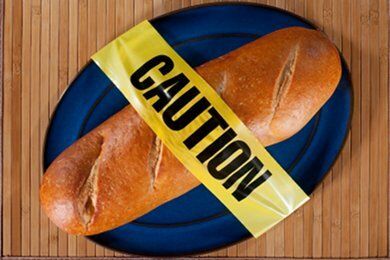 The post - Meet Your New Best Friend: Fat - was focused on the fact that having a diet lower in fat DID NOT lead to weight loss. In the research study, the higher fat group ate less carbohydrates and lost 8 pounds over a one year period.
Which carbohydrates did they avoid?
Carrots, potatoes, beans, or apples (all high in carbohydrates)?
Or are we talking about processed carbohydrates like bread, cookies, and cereal?
First off, the low carb group that lost 8 pounds was eating 130 grams of carbohydrates per day. That is the equivalent to eating 2 plain bagels or 6.5 slices of bread. Honestly, I would not have thought this was a low carb diet. The lower fat group ate (on average) 3 plain bagels of carbohydrates or 200 grams per day. Wow!
The group that lost weight (the low carb group) did eat more fiber and cut down on processed foods with more carbohydrates.
So which carbs are not your friends?
White bread, white rice, cereals and pasta made with refined flour.
Cookies, candy, and muffins.
Soda, juice, Frappuccinos, and sport drinks.
These are the processed carbs that are getting us into trouble!!
Tell them to take the bread-basket back (unless you are somewhere great and the bread is AMAZING).
If you do nothing else except cut back on the processed carbs, the data shows you will most likely lose weight.
Which carbs are okay? (Don't forget - your body needs carbohydrates to function.)
Whole grain processed foods (with fiber and nutrients) such as oatmeal, 100 % whole-wheat bread, and brown rice are less problematic.
Fruits, vegetables, and beans, while full of carbohydrates, also have NUTRIENTS and FIBER. They are not empty carbs and I believe you should be proud of yourself for eating them.
I would be proud of you!!
SNACK GIRL LIVE CHAT
On Tuesdays, I am starting a 10 minute live chat – where I answer your burning questions. The first one is Tuesday, September 23rd at 3 PM Eastern Time. Click here to access:
Healthy Body Image and Healthy Weight
You can ask me questions live using the Spreecast application or you can leave me a question below and I will answer it on Tuesday. I will post the chat on Wednesday – so if you miss it – you can still watch it.
---
Other posts you might like:
---

Ahhhh, look at that beautiful butter. I can't wait to smear it all over my steak....
---

That lady up there isn't avoiding fruit. She has made a lovely sculpture to express her love....
---