Get Your Cauliflower On
I added this recipe to my arsenal last year and it is a hit!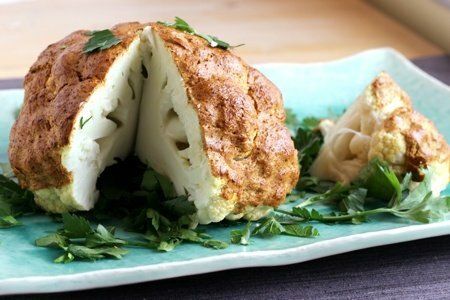 I think the photo is what got people to give it a try and I hope it inspired people to eat more cauliflower.
Someone complained about me pushing cauliflower all the time (they root-a-toot-toot when they eat it), but I am not going to stop.
Cauliflower is low in calories big on nutrients and it's a perfect vehicle for big flavors (since it is so bland).
How simple, no? - a whole cauliflower (no chopping) - smear on some marinade and you roast it. Doesn't it look like something kinda "meaty"? I do think it looks spectacular.
This made a great side and I chopped it up the next day and tossed it in a salad (super yum).
One serving from this recipe has 8% of your daily value of calcium, 9% of your daily value of iron, and 77% of your daily value of vitamin C per serving. It is low in calories and healthy.
Have you tried roasting a whole cauliflower?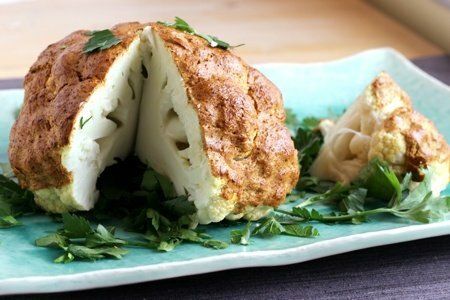 Spicy Roasted Whole Cauliflower Recipe
Serves 6
Ingredients
1 head cauliflower
1 ½ cups plain Greek Yogurt (0% or 2%)
1 lime, juiced
2 tablespoons chili powder
1 tablespoon cumin
1 teaspoon curry powder
½ teaspoon salt

Instructions
Preheat oven to 400F. Line a rimmed baking sheet with aluminum foil. Trim the base of the cauliflower removing the leaves and cutting out the woody stem.
In a large bowl, mix yogurt, lime juice, chili powder, cumin, curry powder, and salt. Dip the cauliflower into the bowl and smear the marinade on with a spoon or your hands. It should be well coated.
Place the cauliflower on the baking sheet and roast until surface is brown about 40 minutes.
Nutrition Facts
65 calories, 1.6 g fat, 0.7 g saturated fat, 8.6 g carbohydrates, 4.0 g sugar, 6.2 g protein, 3.5 g fiber, 262 mg sodium, 2 SmartPts
Points values are calculated by Snack Girl and are provided for information only. See all Snack Girl Recipes
Other posts you might like:
---

Snack Girl is forever trying to sell you cauliflower. You can never have enough cauliflower in my opinion....
---

Last month, I featured a recipe swap with carrots as the featured vegetable. Thanks so much for sharing your recipes.
---
---
Get Free Email Updates! Yes please!
---