Want To Have It All? Try This Trick For Healthy Ice Cream
The photo above is not going to win any awards. It is hard to shoot anything resembling ice cream because it melts!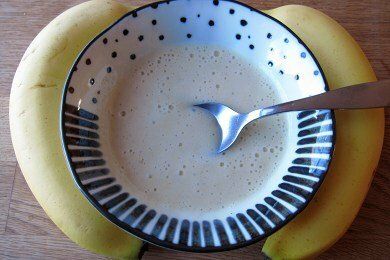 Before you give up on my idea because of a bad picture, give it a try. I was inspired by the comments on my recent post: Eight Exciting Things To Do With Bananas.
It seems that there is an appliance out there called a "Yonanas" (see below) that will turn ripe and frozen bananas into soft serve ice cream. Miraculous!
I did contact "Yonanas" about trying one out and I should be receiving one to review soon. While I wait for my machine to arrive, I decided to try my basic Cuisinart blender that does a great job with smoothies. Can this blender turn out soft serve banana ice cream?
First, I left out three bananas on my counter with a big sign that said, "DO NOT EAT". We inhale bananas in this house and getting one that is really ripe is difficult. I waited until the bananas had lots of spots and were pretty soft.
Then, I peeled them and froze them in a freezer bag. The next day, I sliced them up and tossed them in my blender to see if I could create soft serve. My blender didn't like the bananas and complained.
I added about 3 tablespoons of almond milk and my blender started to work! While not exactly soft serve consistency (a bit melted), it was cold and creamy.
This dessert has no added sugar and very few added calories. Almond milk is only 40 calories per cup - so I added about 10 calories to the concoction.
If found the blended banana to be truly satisfying and I didn't want to share it with my children :)
For the banana haters out there, I am sorry but this dessert does taste like bananas. You could add vanilla to get a banana vanilla flavor. And, of course, chocolate sauce is always a great addition to anything.
This recipe produces healthy "ice cream" without the added chemicals of Skinny Cow brand. A food that resembles ice cream but is made entirely of fruit! How cool is that? (pun intended)
Have you tried to make soft serve banana ice cream?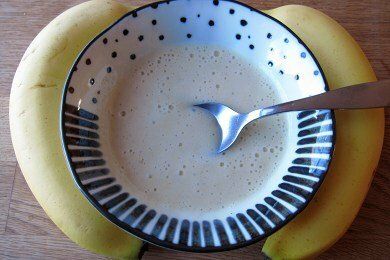 Banana Soft Serve Ice Cream Recipe

(serves 1)
1 very ripe banana
3 tablespoons almond milk (no sugar added), cow's milk, soy milk, or water

Peel banana and put it in the freezer in a freezer bag or wrapped in plastic wrap. Slice into 1/2 chunks and place in blender with almond milk. Blend until smooth and eat immediately.
113 calories, 1.0 g fat, 27.3 g carbohydrates, 1.5 g protein, 3.3 g fiber, 35 mg sodium, 0 Points+
Points values are calculated by Snack Girl and are provided for information only. See all Snack Girl Recipes
$49.99 $38.50 Buy on Amazon.com
As an Amazon Associate I earn from qualifying purchases.
---
Other posts you might like:
---

When people meet me for the first time, what do you think they ask me? Where did you get your nails done?....
---

Does anyone else think the image of a skinny cow is a little strange? My kids thought the packaging was hilarious....
---
---
Get Free Email Updates! Yes please!
---