Zoku Ice Cream Maker: Serving for One
The Zoku Ice Cream Maker solves one of life's biggest problems – a freezer that calls your name.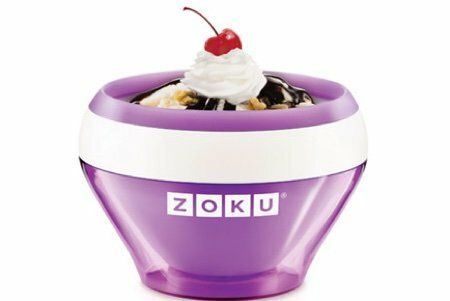 The truth is many of us start a pint of ice cream and think we can stop. Then, we walk by the kitchen (which is an open kitchen so easy to walk by) and the freezer literally screams, "Hey! There is more ice cream in here!"
I know that I sound a bit insane but I hear it.
The Zoku Ice Cream Maker is the perfect solution to your frozen treat problem. You can make individual portions of ice cream, custard, frozen yogurt, gelato, sorbet, or sherbet in as little as 10 minutes.
This is almost as fast as my strawberry frozen yogurt and my peanut butter and banana ice cream.
You make ice cream mixture (easy), refrigerate it, and freeze the Zoku bowl. When you want to make ice cream, you put some in the bowl and stir.
Here is what five minutes with four ounces of mixture looks like when I speed it up to 15 seconds.
I quit because it was a soft serve consistency and my kids were trying to eat it. You can keep going and make a hard ice cream. This is so simple – no power required except for your arm.
The best part is that you can make a wee bit for a treat and then you can't use the bowl again until tomorrow. You mix, savor, and the ice cream is out of this world.
A friend taught me that ice cream should be eaten like a baked good – as soon as possible after it is out of the oven (or out of the ice cream maker). It is absolutely heavenly and much better than a prepackaged pint from the grocery store.
I kept the ice cream mix in my refrigerator for about a week.
To wash the Zoku bowl, I simply rinsed it with warm, soapy water in the sink, dried it, and put it back in the freezer.
This product was received for review consideration. No other compensation was provided.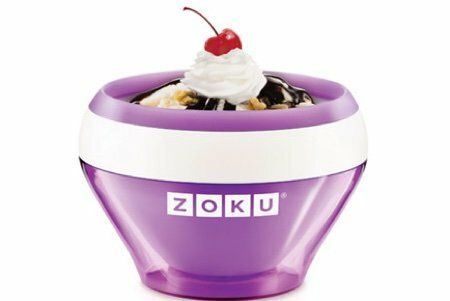 Chocolate Ice Cream Recipe

Makes 8 – 2 ounce servings

Ingredients
1 cup heavy whipping cream
1/2 cup whole milk
1/4 cup sugar
2 tablespoons cocoa powder, dark preferably
1/2 teaspoon vanilla extract

Instructions
In saucepan over medium heat, warm cream and milk. When cream and milk mixture is warm, whisk in sugar, cocoa, and vanilla. Whisk until sugar is dissolved and mixture is well combined. Chill in refrigerator overnight.
Using a measuring cup, add ¼ cup of mixture to a cold Zoku Ice Cream Maker. Stir until it turns into ice cream. Eat immediately.
Nutrition Facts
For 2 ounces = 88 calories, 6.2 g fat, 3.8 g saturated fat, 8.1 g carbohydrates, 7.1 g sugar, 1.0 g protein,.0 g fiber, 12 mg sodium, 4 SmartPts
Points values are calculated by Snack Girl and are provided for information only. See all Snack Girl Recipes
---
$27.99 Buy on Amazon.com
As an Amazon Associate I earn from qualifying purchases.
---
Other posts you might like:
---

I am SO proud of myself. I made this beautiful bowl of strawberry frozen yogurt (and then I ate it)....
---

What if there was something that resembled ice cream and you could make it yourself?...
---
---
Get Free Email Updates! Yes please!
---