Zucchini Boats: Vegetarian
These zucchini boat are vegetarian like any decent zucchini boat should be! Who needs meat when you have zucchini.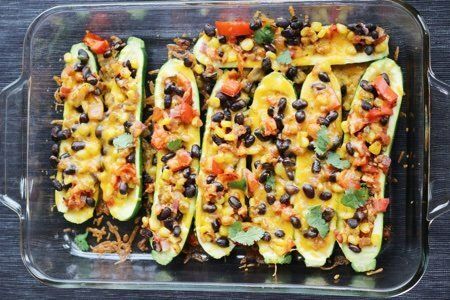 I decided to post these now because you may have an abundance of zucchini in these last days of summer. Have you ever had a zucchini problem? I have and you find yourself texting all sorts of people asking them if they need some squash.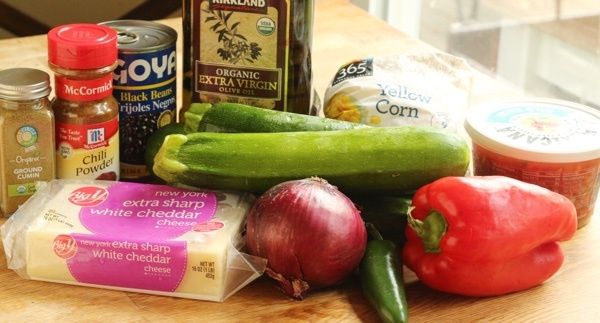 These are a meal! You have beans, corn, salsa, peppers - all packed into a zucchini shell that adds a little crunch (not unlike a taco shell).
Making a zucchini canoe takes no special skills. Just grab a teaspoon and core out the seeded part of the zucchini.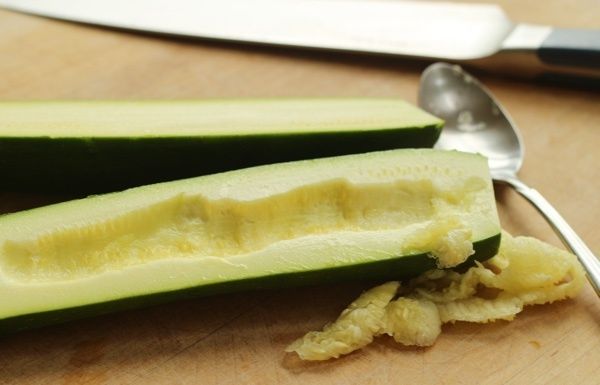 I toss out the seeds because I haven't been smart enough to come up with a good purpose for the innards.
This is a fun job for a 10 year old who needs a craft project. Hey, kid, you want to make a canoe? My teenagers can no longer be enticed with such an invitation.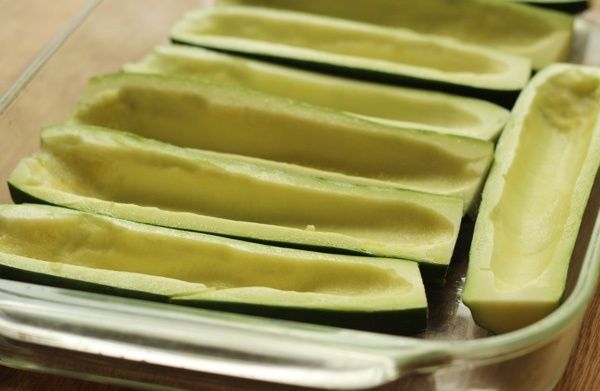 For the filling, all you have to do is saute the onions and the peppers for a few minutes. Add some chicken breast at this stage if you want to change it up.
These zucchini boats are vegetarian and can be vegan if you simply omit the cheese (which you put on last for the finishing touch).
I make a whole casserole dish of these and then I can put 2 in my lunch box when I want a burrito. The only problem with storing these is that sometimes someone eats them when I am not looking. You know who you are.
It is important to bake them in a covered dish so the liquid in the zucchini steams the filling.
What do you think of using zucchini instead of a tortilla?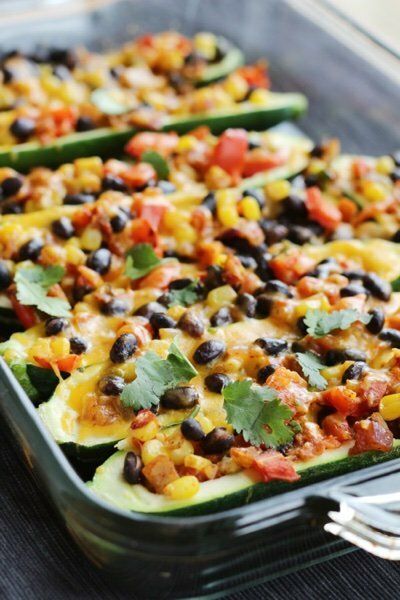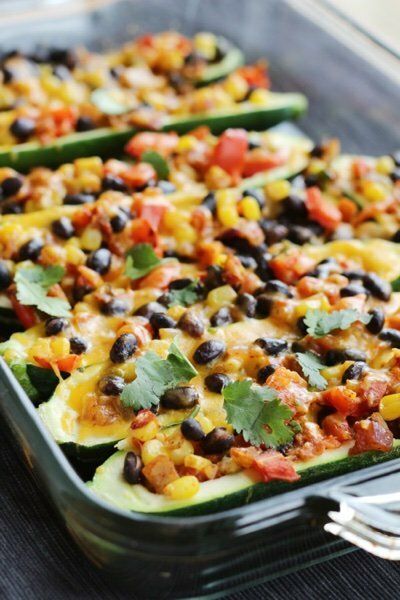 Vegetarian Zucchini Boat Recipe
Makes 8 boats plus 2 cups extra filling
Ingredients
4 large zucchini
1 tablespoon olive oil
1 red bell pepper, cored and chopped
½ red onion, chopped
1 cup frozen corn, thawed
1 jalapeno, seeded and diced
1-15 ounce can black beans, drained and rinsed
1 cup fresh salsa
2 teaspoons cumin
1 teaspoon chili powder
4 ounces shredded cheddar cheese

Instructions
Preheat oven to 400 F. Spray a 10x15" (4 quart) casserole with non-stick spray. Slice zucchini in half length-wise and spoon out the center of each zucchini with a teaspoon or melon-baller. Heat olive oil in a large skillet. Add bell pepper and onion and sauté until onion is softened (about 4 minutes). Add corn, jalapeno, beans, salsa, cumin, and chili powder.
Lay zucchini in casserole and fill with bean mixture. Sprinkle each half with cheese and cover the casserole with foil. Bake for 20 minutes. Top with cilantro (optional).
These do not freeze well.
Nutrition Facts
One boat is 123 calories, 6.9 g fat, 3.3 g saturated fat, 11.2 g carbohydrates, 3.1 g sugar, 6.9 g protein, 3.1 g fiber, 303 mg sodium, 3 Freestyle SmartPts
Points values are calculated by Snack Girl and are provided for information only. See all Snack Girl Recipes
Other posts you might like:
---

Z French like to sspeak like thissss. In France, they call French fries - frites. Don't they know they are French fries? sheesh....
---

Lasagna is one of those foods that top favorite foods lists and so I came up with baked zucchini lasagna to help lighten this classic.....
---
---
Get Free Email Updates! Yes please!
---