Z Fries: The Latest In Nutritious, Delicious, and Low Cal Fries
Z French like to sspeak like thissss. In France, they call French fries - frites. Don't they know they are French fries? sheesh.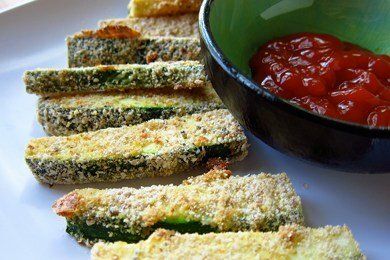 Well, forget French fries. I am serious - FORGET French fries because they are just potatoes, deep fried, and dipped in salt. They should be served with a side of angioplasty.
Snack Girl has stopped eating French fries and now orders a more expensive side salad with her burger. (notice how I haven't given up the burger)
Also, French fries are a KETCHUP delivery device. Have you noticed how the salty, crunchy, soft fry works so well with the sweet tomatoey ketchup? Man, that is good!
Since I am growing zucchini in my garden, I decided to try to make fries with them. I was worried they were a bit too soft to make a great fry - but it turns out that this recipe works well. I used corn meal to get a good crunch on the outside of the zucchini.
You can eat an ENTIRE zucchini prepared this way for 161 calories - and you get 9 grams of protein, and over 4 grams of fiber. These are incredibly good for you and shouldn't even be compared to their evil cousin potato fries.
Now, I am not going to tell you that these taste like French fries because they don't. Without deep frying and the like, we end up with a healthier tasting version of a fry - Z Fry.
But, you still get a great ketchup delivery device and you won't need any heart surgery after you eat these. Everything is a trade-off.
Check out Never Eat Fast Food French Fries Again for an even easier French fry substitute.
How do you deal with French Fries?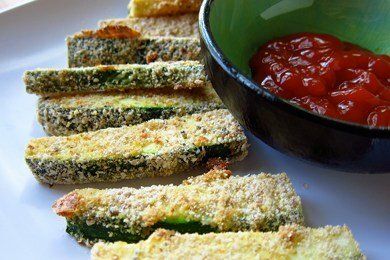 Zucchini Fries Recipe

(2 servings)
Ingredients
2 zucchinis
2 egg whites
1/4 cup whole wheat bread crumbs
1/4 cup corn meal
1/2 teaspoon salt
non-stick spray
2 teaspoons oregano (optional)
Instructions
Heat oven to 425 F. Spray large rimmed baking sheet with non stick spray. Slice zucchinis in half and then again in half along the length. You should have 4 quarters. Slice quarters into 5 slim pieces. Put egg whites in a shallow bowl and beat with fork until a little froth appears. Mix bread crumbs, corn meal, salt, and oregano (optional) in a shallow bowl.
Dip zucchini pieces into egg whites, and then into bread crumb mixture. Place on baking sheet and bake for 10 minutes. Flip and bake for 10 minutes longer. Serve with ketchup or marinara sauce.
These can be made ahead and just eaten at room temperature. They are best out of the oven.
Nutrition Facts
161 calories, 1.6 g fat, 30.0 g carbohydrates, 9.3 g protein, 4.3 g fiber, 200 mg sodium, 4 Points+
Points values are calculated by Snack Girl and are provided for information only. See all Snack Girl Recipes
Want to read about snacks?
Low Calorie Cereal Recipe
How To Make A Healthy Cake Pop
Hellmanns Olive Oil Mayonnaise Review
Skip The Ice Cream: Grill Your Dessert
---
Get Free Email Updates! Yes please!
---