Zucchini Cheese Fries
I have not been the recipient of any free zucchini this summer but I know it is coming.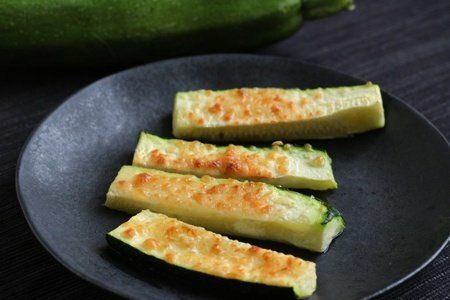 Zucchini grows like crazy here and when my gardener pals grow it – I get the "please come and take my zucchini phone calls". Fortunately, I am the kind of friend that can help in this situation.
Why? I love zucchini!!!
It is sweet, low in calories, and very versatile. There is an excellent zucchini, banana, and almond breakfast muffin recipe in my book for this time of year.
I bought the zucchini for this recipe at my local Stop & Shop and I didn't pay much. The concept here is to replace the "cheese fries" that you know you shouldn't be eating.
I have to give my friends over at Men's Health credit for naming the #1 Worst Food in America – the Outback Steakhouse Aussie Cheese Fries with Ranch Dressing (2,900 calories, 182 grams of fat, 240 carbs).
You can't make this stuff up.
My version has 88 calories per serving and 40% of your daily value of Vitamin C. If you love cheese fries, you need to try to exchange them for something else. Zucchini slices with Parmesan cheese is a tasty alternative. You get a sweet, crunchy base to a delicious salty top.
You save a whopping 637 calories per serving with my recipe. Take that Outback Steakhouse!
On a side note, my husband is Australian and does not think that "cheese fries" can be found in the Outback (which I believe is good news for the kangaroos).
What do you do with zucchini?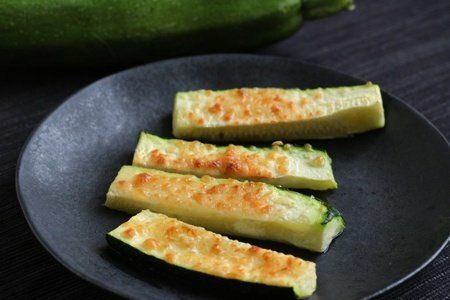 Zucchini Parmesan Fries Recipe
Makes 4 servings
Ingredients
2 zucchini (1-1¼ pound)
¼ cup grated Parmesan cheese
salt and pepper to taste
Instructions
Preheat oven to 350 F. Line a baking sheet with aluminum foil (very important or it will be difficult to clean). Scrub the zucchini to get any sand or dirt off of it. Slice lengthwise and across so you make ½ inch strips.
Put zucchini on baking sheet and sprinkle with Parmesan cheese. Bake for 12 minutes until softened. Finish under broiler on high for 2 minutes to brown the cheese.
Enjoy immediately.
Nutrition Facts
¼ recipe is 88 calories, 3.3 g fat, 2.1 g saturated fat, 5.3 g carbohydrates, 2.5 g sugar, 6.3 g protein, 1.6 g fiber, 146 mg sodium, 2 SmartPts
Points values are calculated by Snack Girl and are provided for information only. See all Snack Girl Recipes
Other posts you might like:
---

Row, row, row, your zucchini, gently down the STREAM!!...
---

Z French like to sspeak like thissss. In France, they call French fries - frites. Don't they know they are French fries? sheesh....
---
---
Get Free Email Updates! Yes please!
---