Snack Girl's Bacon and Eggs
Easter happened yesterday and my family has a tradition of dying hard-boiled eggs and hiding them around the house.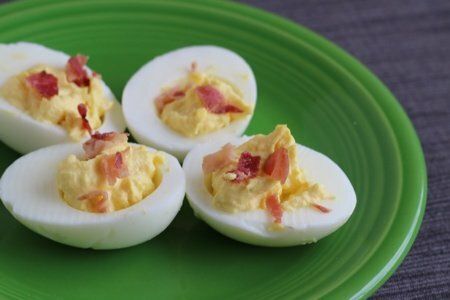 My kids LOVE trying to find them and this year our puppy joined in the fun and managed not to eat any eggs - hurray!
The big problem with deviled eggs is that the recipe usually includes large amounts of mayonnaise. Mayonnaise is 90 calories per tablespoon.
So, if you can get rid of most of the mayonnaise in the recipe, you have a healthy snack. Eggs are really nutritious and, without adding mayonnaise, about 70 calories.
The recipe below uses 2% Greek yogurt and a little mayonnaise to achieve the creaminess without the calories. I tried using Greek yogurt without adding mayo but the flavor fell flat. There was too much sour and not enough creaminess to make it taste good.
A slice of bacon is fantastic as a condiment – crunchy, smoky, and colorful – and a nice change from paprika.
Here are some other suggestions for tasty deviled eggs:
Add 1 teaspoon of curry powder
Add chopped pickles (sweet or dill)
Add a dash of horseradish
Use spicy salsa as your mix-in
Whatever you do, USE LESS MAYONNAISE.
For those of you, who would like to know how to make the perfect hard boiled egg check out: Hard Boiled Eggs.
If you really like eggs, it can be fun to have an "Egg Cooker" featured below. I haven't tried it personally, but it is on my "cool kitchen appliances that I must have one day when I have more space in my kitchen" list.
My librarian, Sue, gave me a great idea for peeling many hard boiled eggs. After you cook them, put them back in the pan and just shake it. The eggs get cracked evenly and it is SO easy to peel them.
Sue learned this trick from a 92 year old who is clearly very wise.
Please share your favorite deviled egg ideas!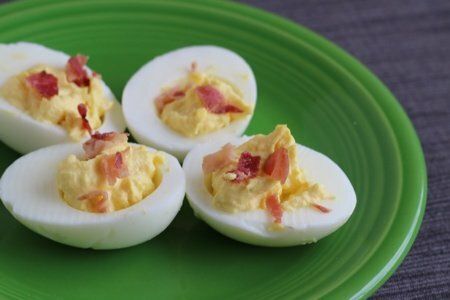 Bacon Deviled Eggs Recipe
Serves 6, 2 egg halves per serving
Ingredients
6 hard boiled eggs
1 teaspoon white vinegar
2 tablespoons 2% Greek yogurt
1 teaspoon Dijon mustard
1 tablespoon mayonnaise
1 slice center cut bacon, crumbled
Instructions
Peel hard boiled eggs, slice in half and remove egg yolks and reserve egg whites. Place egg yolks in a bowl and mash them. Mix in vinegar, yogurt, mustard, and mayonnaise. Spoon mixture into egg whites and top with bacon. Can be served immediately or refrigerated and served in a few hours.
Nutrition Facts
Two egg halves = 80 calories, 5.6 g fat, 1.6 g saturated fat, 1.1 g carbohydrates, 0.6 g sugar, 6.3 g protein, 0 g fiber, 107 mg sodium, 2 Points+
Points values are calculated by Snack Girl and are provided for information only. See all Snack Girl Recipes
---
$129.99 Buy on Amazon.com
As an Amazon Associate I earn from qualifying purchases.
---
Other posts you might like:
---

Snack Girl loves trying out food products to see how they rate. A reader asked me about Egg Beaters and I had never tried them....
---

Are you bored with hard boiled eggs? Yeah, they are dull. Let me introduce you to an old friend...
---
---
Get Free Email Updates! Yes please!
---