Good Morning Sunshine! Wake Up With This Egg Dish
Are you bored with hard boiled eggs? Yeah, they are dull. Let me introduce you to an old friend.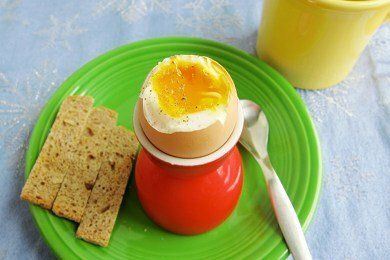 This is a soft boiled egg and it seems our grandparents used to eat these. I hadn't met one until I traveled to Australia with my husband. This is a super way to slow down and enjoy an egg.
How do you make them? Well, I get my water boiling and then add my egg for 5 minutes. I found that I can get a consistently perfectly cooked egg this way that isn't too runny.
Below I have featured this cool gadget that I found on Amazon.com that makes egg boiling MORE FUN! Yes, they think of everything. You just pop this thing in the water with your eggs and it tells you how cooked they are by changing color. WHOA.
The real issue is how to serve them. I found some cool egg cups at garage sales, IKEA and Ebay - but they are hard to find. Some suggestions:
shot glasses
espresso cups
forget the cup and just mash it on toast
Then, there is the issue of spoons. Do you need anything else but a teaspoon? I find that egg spoons (below) are better for getting the entire egg out of the shell. They are also super cute and handy for eating ice cream. Smaller spoons equals smaller bites.
Try a soft boiled egg with a teaspoon before you invest in the egg spoons.
You scoop the egg out of the shell with the cute spoons. You do have to crack the egg in a certain way for all of this to work (it takes a couple tries before you become an expert). I found some great instructions here: How To Crack a Soft Boiled Egg.
I serve my soft boiled egg for breakfast with a few "soldiers" of Toast. Just cut your 100% whole grain Toast into strips to dip in in the egg. YUM!
Do you eat soft boiled eggs?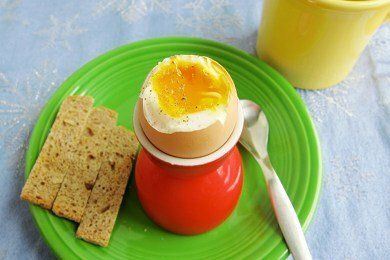 Soft Boiled Egg Recipe
Ingredients
1 egg
salt for pan
Instructions
Buy the freshest eggs you can find. Bring a small saucepan of water to a boil and add a dash of salt. Lower egg into boiling water with spoon to keep it from cracking.
Set timer for 5 minutes for a runny egg, 7 minutes for a harder one, and 10 minutes for a hard boiled egg. Remove egg from water with spoon and rinse under cold water. Place in egg cup and crack. Enjoy!
Nutrition Facts
One egg without toast is 63 calories, 4.4 g fat, 0.3 g carbohydrates, 5.5 g protein, 0 g fiber, 62 mg sodium, 0 SmartPoints
Points values are calculated by Snack Girl and are provided for information only. See all Snack Girl Recipes
---
$8.93 Buy on Amazon.com
As an Amazon Associate, I earn from qualifying purchases.
---
Other posts you might like:
---

Snack-Girl is a working mother and sometimes she doesn't get around to things as timely as other food writers. I would say most food blogs featured deviled eggs last week. Now that I have 2 dozen Hard Boiled Eggs in my fridge, I am ON IT!...
---

Snack Girl is on an egg kick because eggs are just SO nutritious....
---
---
Get Free Email Updates! Yes please!
---