A Tofu Recipe For Tofu Haters
Snack Girl has a confession. She wants to like tofu, but she just can't.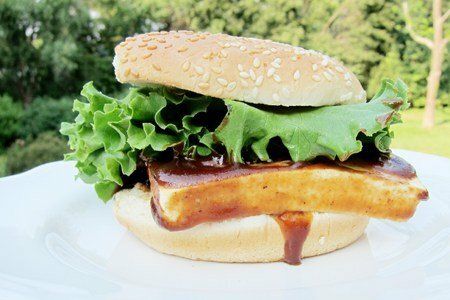 My friends have tried to convince me, and I have tried a bunch of recipes for Snack Girl that are just okay (except for Tofu Scramble).
My first problem with tofu is that many recipes start with "Drain tofu and weigh it down. Let it sit for 20 minutes." Do I look like I have 20 minutes to sit around waiting for my tofu to release water?
I am sure that tofu lovers have figured out a way to make this step less onerous. But, I just can't get past it.
Tofu is basically soybean cheese. You can find it in the refrigerated section of the produce section of your supermarket and it costs about $2.70 for 14 ounces. It is a great way to get some protein without the saturated fat that comes from eating meat.
But, the texture is kinda like jello and it doesn't have any taste (unlike a steak). How do you make it taste like something? My new solution is to add barbecue sauce.
The photo above is a BBQ Tofu sandwich and it was pretty good. I know I am going to get flamed for this - I used a commercial brand of BBQ sauce that I will not share with you because high fructose corn syrup is a featured ingredient (KC Masterpiece).
That's right, I added high fructose corn syrup to tofu :) I'm nowhere near perfect and one day I am sure I will make my own BBQ sauce (just not today).
Tofu is not meat and so I would not say that this was as good as a pulled pork sandwich, BUT it was great for a fast dinner. One slice is just 62 calories and includes 3.6 grams of protein - not bad for barbecue.
How do cook tofu? Have you tried it? Please share.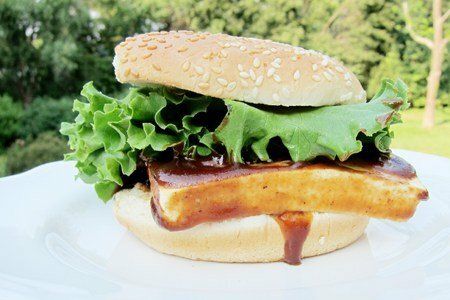 BBQ Tofu Recipe

(makes 9 slices)

Ingredients
¾ cup barbecue sauce
1 - 14 ounce package extra firm tofu

Instructions
Heat oven to 425 F. Place a sheet of tinfoil onto a rimmed baking sheet. Drain tofu and dry with paper towels. Slice 9 - ½ inch slices, place onto baking sheet, and brush with barbecue sauce. Flip tofu over and brush on the other side.
Bake for 10 minutes or until sauce has carmelized. Serve immediately.
Nutrition Facts
For one slice = 62 calories, 1.8 g fat, 8.3 g carbohydrates, 5.7 g sugar, 3.6 g protein, 0.5 g fiber, 238 mg sodium, 2 Points+
Points values are calculated by Snack Girl and are provided for information only. See all Snack Girl Recipes
Other posts you might like:
---

Snack Girl has been looking for a packaged veggie burger to endorse as a great snack. And, she hasn't found one :(...
---

Do you think Snack Girl is done trying to convince you to eat broccoli? I will NEVER give up (really)....
---
---
Get Free Email Updates! Yes please!
---