Better Than Real Eggs
Going vegan seems like a big trend right now as we look at our calorie intake and our environmental impact. I never thought eggs were such a big deal because nothing was slaughtered to get them.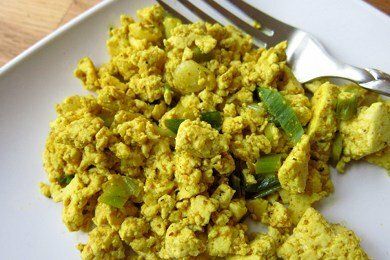 But, some people can't digest them and some can't forget that the egg could have been a chick. Also, since eggs are the product of animals - it takes more energy to make them then a plant based food.
On the other hand, eggs are nutritious and one of my personal favorites for breakfast. I simply love soft boiled eggs see: Why Don't Americans Serve Eggs Like This?.
How about a plant based food that mimics eggs? Will that work? Ummm, well, I wasn't really sure until I attempted a "tofu scramble" because I thought that tofu was just for hippies.
A whole bunch of you are about to stop reading this post because I mentioned TOFU. Please hang in there and give this a chance. Tofu is just a soybean "cheese" and it is sitting in your major supermarket chain right now!
On its own, tofu tastes bland and isn't very yummy. Kinda like chicken, you need to flavor it to make it pop. Flavoring it is simple and it takes almost zero time to cook. You can just eat it raw so it is a matter of getting to the temperature and consistency you desire.
A tofu scramble is almost as simple as an egg scramble. You crumble the tofu, heat it for about 8 minutes, and add spices. What you get is like scrambled eggs except more versatile.
For example, would you store scrambled eggs in your fridge to reheat - no! They just get rubbery. But, a tofu scramble can be made ahead and reheated to make a delicious breakfast, lunch, or dinner.
This recipe uses extra-firm tofu, cumin, curry powder, and some optional scallions.
Do you cook with tofu? Please share!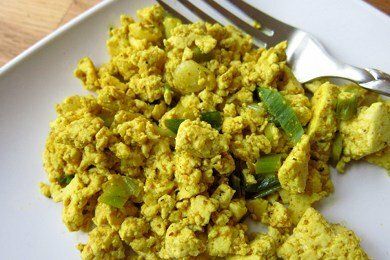 Scrambled Tofu Recipe
(makes one large serving)
Ingredients
1 package extra firm tofu
3 scallions, chopped (optional)
1 teaspoon curry powder
1/2 teaspoon cumin
non-stick spray

Instructions
Heat a non-stick pan over medium high heat and spray with non-stick spray. Crumble tofu into pan and add scallions.
Heat (stirring often) for 8 minutes until most of the water has steamed out. Mix in the curry powder and cumin. If mixture is too dry add a little water back in to get to desired consistency. Enjoy!
Points values are calculated by Snack Girl and are provided for information only. See all Snack Girl Recipes
Want to read about snacks?
A Lower Calorie Pistachio For Your Snack Consumption
McDonald's Smoothie vs. Odwalla Smoothie: Which Should You Choose?
One More Thing To Do With Watermelon
Create A Better Snack With Carrots
---
Get Free Email Updates! Yes please!
---