Cut Your Morning Sugar Consumption in Half With This Cereal
Since posting: Candy or Breakfast? Evaluate Your Cereal, Snack Girl has scoured the cereal aisle looking for healthy choices.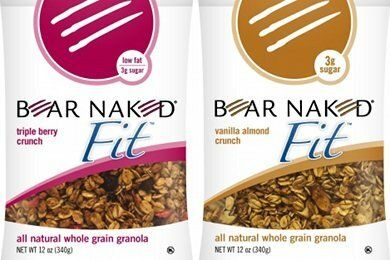 The biggest problem in finding a cereal that passes my test is SUGAR. You can imagine that if you are a big cereal manufacturer, such as General Mills, you want to be sure that people are going to buy many boxes of your product. So, it better taste great.
The easiest way to make people want more of your brand of cereal is to make it super sweet.
But, it isn't a good idea to start your day with lots of sugar in your system. You will crash and be hungry before lunch.
When I spotted "Bear Naked Fit" advertising low sugar, I got excited. But, it cost $5 for a 12 ounce bag! Yikes! Snack Girl had been contacted by Bear Naked so I just wrote them and asked them to send me a sample. Why pay $5 and hate the stuff?
Here is how the "Triple Berry Crunch" flavor did on my cereal test:
---
Healthy or Crappy Cereal Test
1. Is the first ingredient whole grain? Yes! The first ingredient is whole grain oats.
2. Is there 5 grams or less of sugar per serving? Yes! There is 4 grams of sugar per serving.
3. One serving must provides at least 4 grams of fiber. You can remember this one with Four Fiber. No. It only has 3 grams of fiber - but I can live with that.
---
Okay, so how did it taste? I liked it. I poured my new favorite milk substitute Almond Breeze over it and it tasted pretty good. The freeze dried fruit remind me of Captain Crunch :)
and it features: NO artificial flavors, NO cholesterol, NO hydrogenated oils, NO high fructose corn syrup, NO artificial preservatives, and 0g trans fat.
BUT, my issue here is the price. My Stop and Shop has a very similar Granola for $2 for 12 ounces. And, get this, it also features NONE of the above evil items like Bear Naked Fit. It has 5 grams of dietary fiber and 10 grams of sugar.
What to do? Well, my kids love this stuff so I mix it with Rice Krispies or Cheerios. Neither of these cereals contain a lot of sugar. Basically, I cut the store brand granola in half with the less sugary cereal. My kids get to "make" their breakfast in the morning.
And, you know, it tastes pretty good.
(and now I am down to 5 grams of sugar per serving - hurray!)
My suggestion is to try mixing your favorite whole grain, high sugar cereal with a whole grain, low sugar cereal. You get the taste without all the sugar (and maybe save some money).
How do you deal with sugary cereals that you love?
This product was received for review consideration. No other compensation was provided.
Want to read about snacks?
Top Ten Healthy Halloween Tips
Replace Mayo With This Healthy Spread
Can A New Drink Change Your Life?
How Ashley Lost 40 Pounds