A Beet Recipe For Beet Haters
Why do people hate beets? Maybe grandmothers forced beets on to poor defenseless grand children. Or they haven't had tried fresh beets!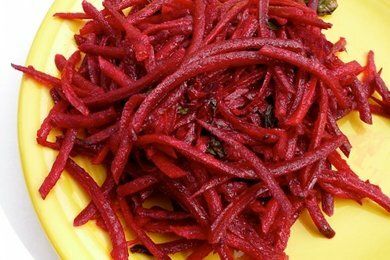 Canned beets are really easy to serve. I have found that you can taste the metal of the can with canned beets, which does not make you desire more.
Fresh beets are an entirely different thing. The downside is now you have to peel them - and you need a seriously good vegetable peeler to do this effectively (see below).
The good news is that you don't have to cook them! All you have to do is grate them. I like to use a food processor to grate things because it is SUPER fast. Grating a pound of beets takes about 30 seconds as opposed to using a grater (4 hours :).
Then you add citrus to the beets and it is amazing what that does to the sweetness. My daughter (6 years old) actually ate this salad and loved it. She asked me to put it in her lunch box for camp. (I couldn't believe it.)
Now you have something that reminds me of coleslaw without the mayonnaise, sweet and crunchy. The best part is that you can keep it in the refrigerator for a week and just keep serving yourself snack sized portions.
This recipe was inspired by The New York Times article: Beet Recipes Even A Beet Hater Can Love.
How do you treat your beets?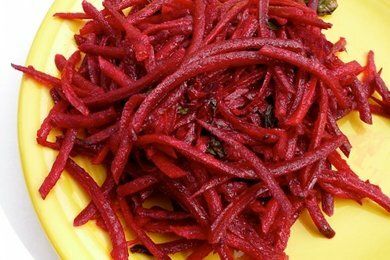 Grated Beet Salad Recipe
(serves 6)
Ingredients
1 pound beets
1/2 cup orange juice
1/2 fresh lemon
2 tablespoons extra virgin olive oil
4 tablespoons fresh herbs such as chives, mint, parsley, or basil (optional)
salt to taste
Instructions
Peel the beets with a vegetable peeler and grate in the food processor using the grating blade. Put beets in bowl and add orange juice and squeeze the lemon over the bowl (catching the seeds in your hand). Add olive oil and optional herbs and toss. Season to taste with salt. Enjoy!
Points values are calculated by Snack Girl and are provided for information only. See all Snack Girl Recipes
$129.90 Buy on Amazon.com
As an Amazon Associate I earn from qualifying purchases.
---
Other posts you might like:
---

The Biggest Loser, a reality TV program on NBC, is about losing weight. Obese contestants go on the show and compete to become healthy. Whether or not you like the premise there is a lot to learn from the program....
---

A bottle of juice (Minute Maid Juice) inspired the creation of Snack Girl. The ingredient list was a shock to me after I had willingly purchased this drink for my daughter.
---

Snack-Girl.com has been devoid of bacon until today! Bacon is not known as a healthy food, but it inspires me to song....
---

I want to know which creative thinker came up with a "bread" bowl. That person was ON to something. Of course, most of us need to avoid bread bowls (especially if they are filled with a clam chowder)....
---
---
Get Free Email Updates! Yes please!
---