A Dangerous Combination, Like Teenagers and Alcohol
The results of this duo are not unprotected sex, but unwanted pounds. This terrifying image will probably haunt you all day long.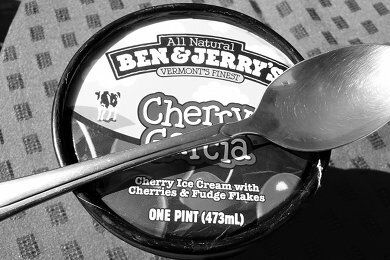 The spoon and the pint of Ben & Jerry's.
Recently, I visited the Ben & Jerry's factory in Vermont. The tour guide announced, "Here at Ben & Jerry's we believe a single serving is a pint."
Really? A pint is 960 calories and 36 grams of saturated fat - about 200% of your daily needs for saturated fat!
I began to look at the workers at the plant and noticed that (with the exception of our tour guide) that they all looked a wee bit chubby. But, all of America looks chubby with 7 out of 10 Americans either overweight or obese.
Cherry Garcia is their best selling flavor and (full disclosure) this container was empty when I photographed it. It does taste pretty good. It has a nice balance of flavors and I enjoyed eating it with my FAMILY of four.
I don't want to demonize Ben & Jerry's. It isn't helpful to say food is BAD. This is just ice cream - but I do think it is a bit addictive.
Before Ben & Jerry's, there was just vanilla, chocolate, and strawberry. Something about these flavors, Vanilla Heath Bar Crunch, Cookie Dough, Chunky Monkey gets in your brain.
My article:Would you Like To Add Some Heroin To Your Order? outlines an argument about how certain foods are addictive..
In Dr. Kessler's (former FDA commissioner under presidents Bush and Clinton), "The End of Overeating", he talks about a taste that combines salt, sugar, and fat that is addictive. Specifically, he talks about ice cream with mix-ins that trigger an addictive response.
So, how do you deal with Ben & Jerry's? Eat a little bit and not very often. The only way to do that is when you purchase some, get a big group together so it doesn't sit in your freezer.
Or try Haagen Dazs Snack Bar, they are 190 calories per serving and are discreet. No spoon here!
---
$25.95 $16.37 Buy on Amazon.com
As an Amazon Associate, I earn from qualifying purchases.
---
How do you deal with "out of control" ice cream cravings? Please share.
Want to read about snacks?
A Delicious and Reasonable Ice Cream Treat
3 Reasons to Avoid Ritz Crackers
This Food is An Instant Party in Your Mouth