This Food is An Instant Party in Your Mouth
Is there a food out there that can explode with taste and also fight cancer? The obvious answer is berries, but the fresh ones are pretty pricey.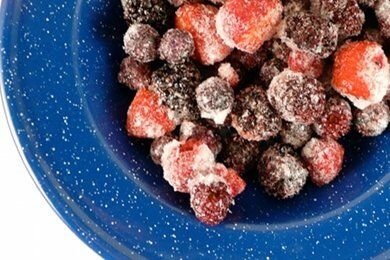 I learned about the price of berries, when my baby girl decided that she loved the taste of fresh blueberries. A small box of organic blueberries set me back $3.50 (and she ate two in one day!). There goes her college fund.
I lived near a Trader Joe's which had a big bag of frozen, wild blueberries for about $3. Problem solved! She would happily eat a whole bowl of frozen berries. Since then, we add frozen berries to many foods that we love.
Of course fresh berries are delicious, but freezing doesn't alter the nutritional benefit of the berries. They get a bit more mushy after they are defrosted but the taste of the berries is preserved.
You can just eat a bowl of frozen berries. If you want to make them more luxurious add a teaspoon of sugar, maple syrup, or chocolate sauce for a great snack. You can replace a whole bowl of ice-cream for 100 calories. Or you can add berries to your favorite foods.
Why add frozen berries? Berries have natural sweeteners and they taste great. They are loaded nutritionally (lots of vitamins) and they are low in calorie. You just can't miss.
Some of my favorite foods to add berries to:
cottage cheese
oatmeal
pancakes
homemade popsicles
ice-cream
muffins
In these dark winter months, berries are a great reminder of Summer. We are lucky enough to live in a place where you can pick your own berries. We froze a bunch of them and are still enjoying our labors.
Do you have a favorite food with frozen berries? Please share below.
Want to read about more snacks?
How To Prevent Cancer
Save Money, Calories, and the Environment with this Yogurt
A Dip that Won't Kill You