Meet the Bloomin' Apple
I am always on the hunt for a new way to enjoy apples. This caramel apple inspired treat is pure genius.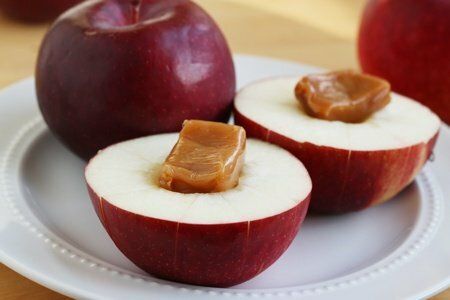 My kids have been begging me to buy the caramel dipping sauce so we can make our own caramel apples. After a quick review of our dentist bills, I decided to ignore their requests. Ask any dentist about caramel, and they will tell you it is evil because kids don't brush properly (even if you stand there and yell at them).
This recipe (if you can call it that) is inspired by the Bloomin' Onion of Outback Steakhouse fame. They take an onion, batter it, and deep-fry it into one of the worst appetizers on record.
This apple, on the other hand, is made with one caramel, half an apple, and a microwave. Viola!
The photo above is BEFORE you use the microwave to melt it. Then it looks a lot less pretty but tastes great.
My caramel was a sea salt version that somehow made its way into my cart at Trader Joe's. I blame the wind.
After you make it, you pull it apart and eat the apple slices that have melted caramel on them. This is easy, relatively healthy, and FUN.
Do you have a favorite apple/caramel recipe?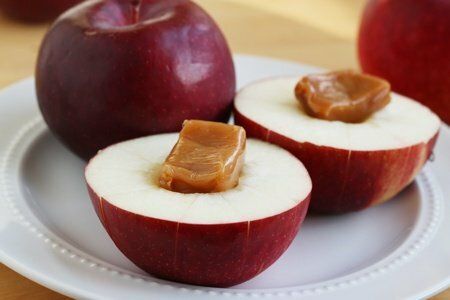 Bloomin' Apple Recipe

Makes 2 servings

Ingredients
1 apple
2 caramels

Instructions
Remove stem from apple. Slice apple in half across the center (not lengthwise) so you have the top and the bottom divided.
Core out the seeds (which look like a lovely flower) with a spoon. Slice the apple without slicing all the way through in wedges about 8-10 times so you can pull off a slice fairly easily.
Add caramel to center and heat in microwave for 20 second intervals until caramel is melted. Do not eat immediately! Wait about five minutes until the caramel has cooled and hardened.
Can be stored, after spritzing with some lemon juice, in the refrigerator.
Nutrition Facts
For ½ apple and one caramel = 86 calories, 0.8 g fat, 0.0 g saturated fat, 20.3 g carbohydrates, 16.0 g sugar, 0.5 g protein, 2.2 g fiber, 25 mg sodium, 1 Freestyle SmartPt
Points values are calculated by Snack Girl and are provided for information only. See all Snack Girl Recipes
Other posts you might like:
---

You don't need to be a rocket scientist to get why these caramel apples are healthier....
---

Snack Girl has long advocated for an apple and peanut butter for a perfect snack. Basically, you got your fruit with a another whole food (peanuts) just blended up. Super yum!....
---
---
Get Free Email Updates! Yes please!
---