Broccoli Apple Salad Recipe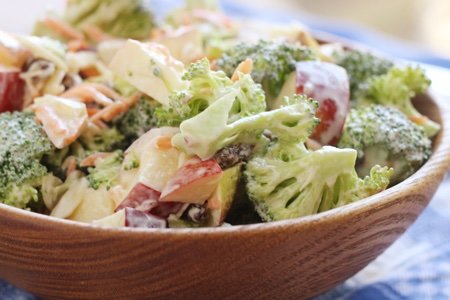 Are you looking for a salad that you can make on your day off and then eat all week? Look no further than this broccoli apple salad recipe.
It can be difficult to keep a raw vegetable type of mixture ready to go for grabbing instead of – hmm, let's say the cheesecake that my friend, Kate, brought over.
Lettuce tends to melt in the fridge after you put a dressing on it and other salads that include parsley, basil, or avocado can become OLD very quickly. There is nothing as gross as an old salad.
But, if you use heartier fruits and vegetables you can make LARGE salads that you can munch on all week. This salad uses broccoli, carrots, and apples and it is so yummy that my husband ate it instead of the cheesecake.
I'm not kidding.
The dressing is a combination of Greek yogurt and mayonnaise which I find tastes a bit better than only using yogurt. If you really love mayonnaise, you will find this lighter than your regular salad which is a good thing in the summer.
I have been using Greek yogurt or plain yogurt in a few of my favorite salad recipes including Potato Salad made with Cauliflower and raw kale Caesar salad. It works brilliantly because it has a nice sour tang and a lovely creaminess for far fewer calories than mayo.
This broccoli apple salad is exactly the kind of food that I desire on a hot summer day – cool, crunchy, and good for me. I don't understand people who can eat French fries when the sun is beating down and sweat is pouring down their backs. They seem so heavy.
In the winter, my comfort food of choice is Poutine – a French Canadian specialty of French fries, gravy, and cheese curds. I don't actually get to eat it very often which is probably a good thing (but I do dream about it for hours when it is snowing).
Let me know what you think of this salad. I hope it becomes a staple in your house.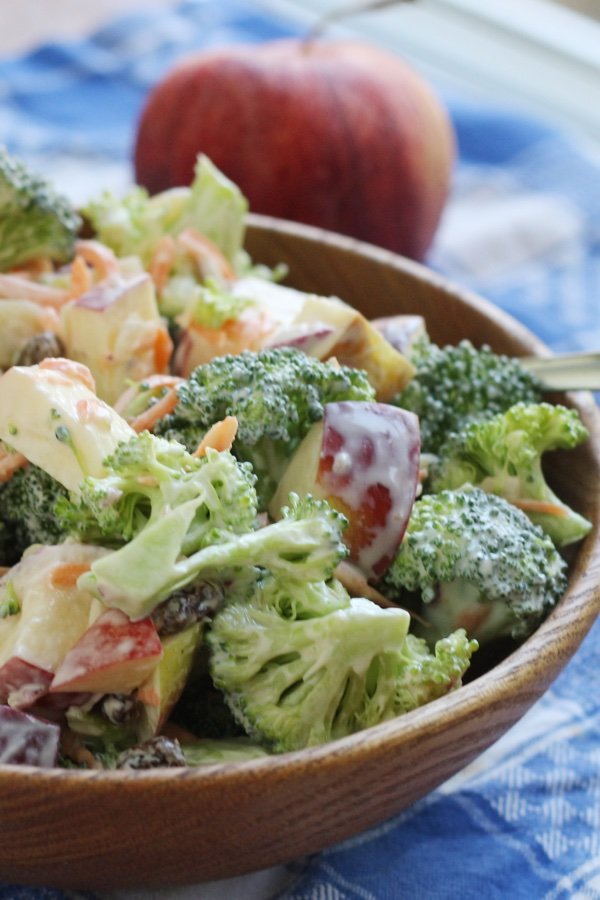 print
Pin It
Broccoli Apple Salad Recipe
Makes 6 servings

2 pounds broccoli florets
1 large carrot, peeled and shredded
½ red onion, diced
1 large apple, finely chopped
¼ cup raisins

Dressing:
¾ cup non-fat Greek yogurt (5.3 ounces works)
¼ cup mayonnaise
2 tablespoons fresh lemon juice
salt and pepper to taste

In a large bowl mix together broccoli, carrot, onion, apple, and raisins. In a small bowl, whisk together yogurt, mayonnaise, and lemon juice.
Pour dressing onto salad and adjust seasonings. Enjoy now or keep in the fridge for up to one week.
153 calories, 3.9 g fat, 0.5 g saturated fat, 27.1 g carbohydrates, 14.0 g sugar, 6.3 g protein, 6.0 g fiber, 153 mg sodium, 3 Freestyle SmartPts
Points values are calculated by Snack Girl and are provided for information only. See all Snack Girl Recipes
Other posts you might like:
---

I know how hard it is to believe that you could make potato salad with cauliflower salad but hear me out....
---

Raw kale Caesar salad will change your mind about romaine lettuce being the king of Caesars....
---
---
Get Free Email Updates! Yes please!
---