Potato Salad Made With Cauliflower
I know how hard it is to believe that you could make potato salad with cauliflower salad but hear me out.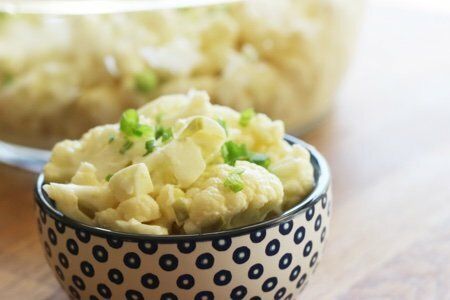 This is a wonderful "low carb" option the replaces the heaviness of potatoes – which you don't want in the summer anyway –right?
Frankly, I am bored with potato salad. Snore. Some of you have complained about my love of cauliflower because it makes you root-a-toot-toot but I will not stop creating with it – why?
Cauliflower is an excellent source of vitamin C, vitamin K, folate, pantothenic acid, and vitamin B6. It is a very good source of choline, dietary fiber, omega-3 fatty acids, manganese, phosphorus, and biotin. Additionally, it is a good source of vitamin B2, protein, vitamin B1, niacin, and magnesium.
How many foods can you say that about? And it is low in calories versus the carb rich potato.
This potato salad with cauliflower works because you don't cook the cauliflower into mushiness.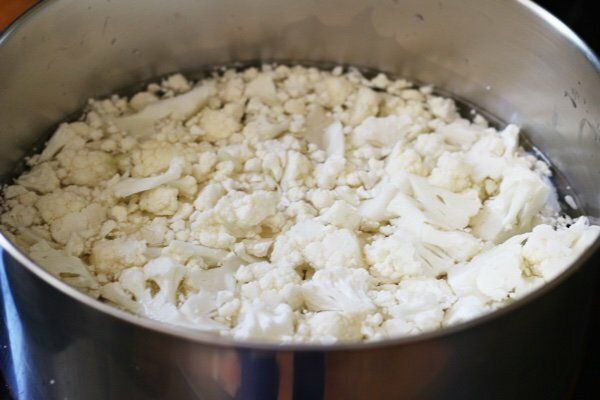 Heat up the cauliflower in water that almost covers it and then drain it immediately when it gets to a boil. This will ensure a crunchy but cooked texture that will remind you a wee bit of a potato.
Then you make a sauce that is very similar to actual potato salad and toss it together.
I like to garnish it with some chopped green onions and smoked paprika. Smoked paprika is one of those spices that I want to pour on absolutely everything (ice cream? Yes!). It is so rich and tasty. Ahhh.
Keep this in your fridge and add it to your lunch all week. Your coworkers will admire your brilliance as you announce that it is cauliflower.
For other low carb cauliflower recipes try my low calorie rice and my low calorie Alfredo sauce.
Have you tried a potato salad substitute? What works for you?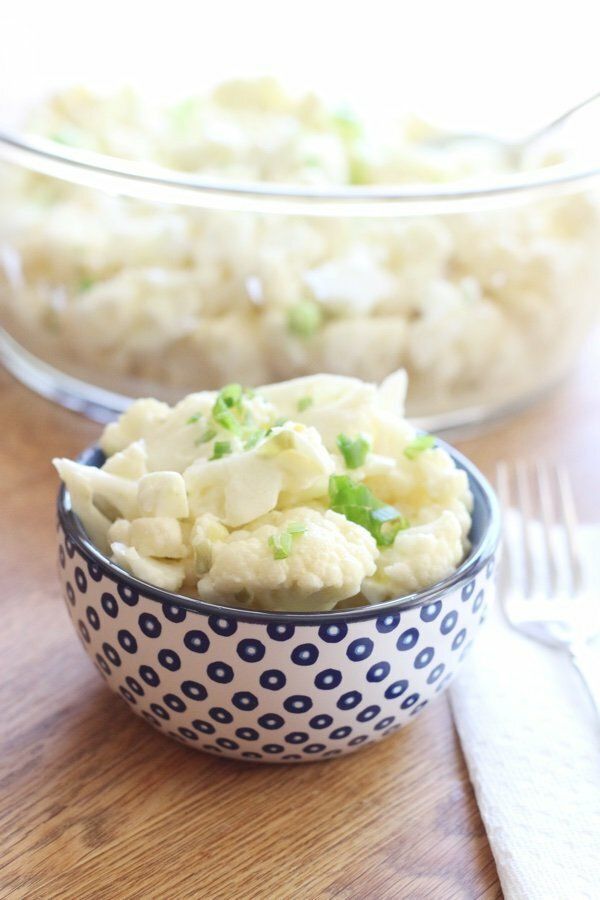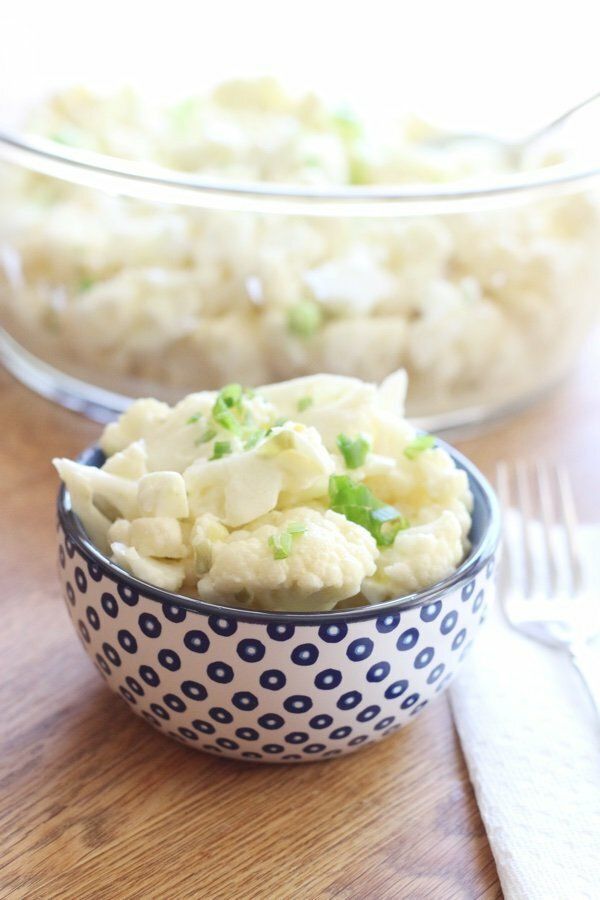 Potato Salad Made with Cauliflower Recipe

Makes 6 cups

Ingredients
1 large head cauliflower, cored and cut into bite sized pieces
2 hard boiled eggs, peeled and chopped
¼ cup mayonnaise
¼ cup plain yogurt
1 tablespoon Dijon mustard
1 tablespoon dill relish
1 teaspoon cider vinegar
salt and pepper to taste
chopped green onions (optional)
smoked paprika (optional)

Instructions
Add cauliflower to a large saucepan and add water to almost cover. Heat until just about to boil and drain. You want the cauliflower to retain its crunch but not be too crunchy.
Add cooked cauliflower and eggs to a large bowl. Mix together mayonnaise, yogurt, mustard, relish, and vinegar in a small bowl and pour over cauliflower. Blend and taste for salt and pepper. Garnish with chopped green onions and smoked paprika.
Nutrition Facts
For one cup = 80 calories, 5.0 g fat, 1.1 g saturated fat, 5.7 g carbohydrates, 2.6 g sugar, 3.5 g protein, 1.2 g fiber, 146 mg sodium, 3 SmartPts
Points values are calculated by Snack Girl and are provided for information only. See all Snack Girl Recipes
Other posts you might like:
---

You know how pasta and cheese is the ultimate comfort food combination? What if the cheesy part was only 100 calories per cup?....
---

This low calorie rice is a win-win substitute for real rice......
---
---
Get Free Email Updates! Yes please!
---