Broccoli With Peanut Sauce Is For Everyone (Even The Broccoli Haters)
Raise your hand if you like steamed broccoli with nothing on it! One, two.....TWO of you :)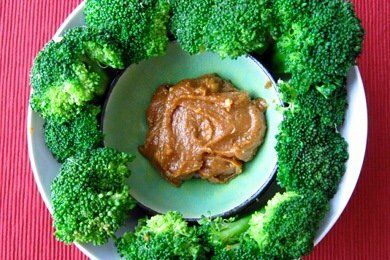 I'm just being silly. I am sure many of you can just chomp away on broccoli with zero added and make the rest of us who like it drenched in olive oil look bad.
Broccoli is a SUPER food. Play theme music here: One small serving of broccoli includes 225% of your daily value of Vitamin C, and 8% of your daily value of Calcium and Iron.
Do NOT give up on broccoli.
So, how to you get kids and picky adults to eat broccoli? Use peanut butter. I know it sounds crazy, but it works.
The sauce below is a take on a Thai peanut sauce that you would find with a satay. The key to making it palatable for everyone might be to leave out the spicier components (garlic and ginger powder).
For children, this recipe can be a lot of fun because they can make the sauce themselves. My 6 year old can now measure out tablespoons of liquid and had a great time stirring this sauce.
I had her taste it before we added the garlic and ginger. SHE decided to add in the spicier components and ate about 1/2 pound of broccoli with zero prompting from me (hurray!).
This is also a great party snack, and is gluten-free (if you use Tamari instead of soy sauce), fast to make, and really delicious.
You can use frozen broccoli and any other nut butter that you prefer (almond, sunflower, cashew, etc.). In addition, you can use regular vinegar if you don't have rice vinegar (but you should add a little more sugar to combat the sourness).
This makes a great side dish, lunch, snack, or even breakfast. That is right - broccoli for breakfast!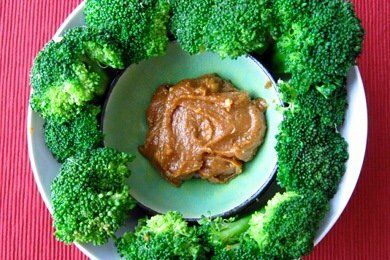 Broccoli and Peanut Sauce Recipe

(serves 6)
2 pounds broccoli
1/4 cup smooth peanut butter
2 tablespoons seasoned rice vinegar (unseasoned will work)
2 tablespoons soy sauce
1 teaspoon sugar
1 minced garlic clove (optional)
1/2 teaspoon ground ginger (optional)

Separate broccoli into stems and florets. Peel and chop stems. Steam broccoli in a steamer over boiling water for 3 to 5 minutes (or your favorite way to cook broccoli). Mix peanut butter, rice vinegar, soy sauce, sugar, minced garlic, and ginger in a small bowl.
If you keep your peanut butter in the refrigerator, you will probably need to heat it for 30 seconds to get it to mix with the other liquids. Stir vigorously until combined. Serve broccoli with peanut sauce in small bowl on the side. Enjoy!
For one serving = 123 calories, 6.0 g fat, 13.9 g carbohydrates, 7.3 g protein, 4.6 g fiber, 372 mg sodium, 3 Points+
Points values are calculated by Snack Girl and are provided for information only. See all Snack Girl Recipes
Other posts you might like:
---

Do you think Snack Girl is done trying to convince you to eat broccoli? I will NEVER give up (really)....
---

Snack Girl has a confession to make. She was a "hater" of vegetable soup. I know it is hard to believe - but I was....
---
---
Get Free Email Updates! Yes please!
---