The Most Colorful Comfort Food
Snack Girl has a confession to make. She was a "hater" of vegetable soup. I know it is hard to believe - but I was.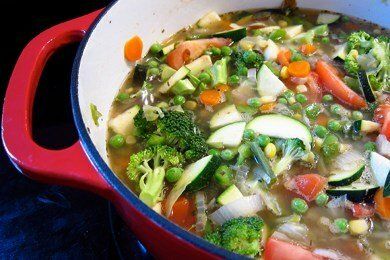 UNTIL....my daughter brought home a recipe for vegetable soup from school and asked me if I would make it with her.
So, I said, "No way, that stuff is gross!" (in my head). While my lips said, "Let's do it!".
When I first reviewed her recipe, I was overwhelmed by the number of ingredients. Snack Girl.com features recipes with about FIVE ingredients, because I hate recipes with long ingredient lists.
But, all of these ingredients are vegetables and so you don't have to buy a big package to only use a small amount. The only pain is the cabbage - I am going to make coleslaw with the rest of it.
You don't have to use all the vegetables in this list to make this vegetable soup. For example, if you hate tomatoes just add more zucchini and corn. No big deal.
I gave my daughter a butter knife (she is 7) and she cut the zucchini, green beans, and potato into chunks. She was a big help because all the work of this recipe is in the slicing and chopping.
The cooking time is short and you could do this all start to finish in about 30 minutes.
My advice to vegetable soup haters is to add Tabasco at the end. A couple dashes of Tabasco to this soup sent me into an orbit of happiness. This stuff is gooooood.
And, ridiculously good for you. It is a great low calorie snack (a whole bowl is only 88 calories!), lunch, dinner, whatever. You cannot get fat eating this soup.
Finally, I just want to share where I got the pot for cooking this soup. I happen to have inherited a bunch of Le Creuset dutch ovens (thanks, mom) and one of them finally wore out.
I decided that I didn't have $300 for another one, so I bought this one from Lodge ($50 -see below). I think it is pretty great! It has chipped a little on the edges, but I think it is going to last. I have had it for about 6 months now.
These enameled cast iron pans are the best for holding the heat and keeping it even for stews, soups, stocks, etc.
Please share your favorite vegetable soup recipe.
---
Vegetable Soup Recipe

(makes 8 large servings)

1 large onion, peeled
2 carrots, peeled
1 medium potato, with skin
1/4 pound green beans, trimmed
1/6 small head cabbage
1 stalk broccoli (stalk peeled)
3 medium tomatoes
1 small green bell pepper
1 zucchini (5 to 6 inches)
1 cup frozen corn
1/2 cup frozen peas
4 bouillon cubes (chicken, beef, vegetable)
5 cups water
1 bay leaf
1 teaspoon dried marjoram
1 teaspoon dried thyme
salt and pepper to taste
Tabasco (optional)
Slice onion and carrots into rounds. Cut potato into cubes and snap beans into 1-inch pieces. Shred cabbage and put onion, carrots, potato, and cabbage into 6 quart cooking pot.
Add bouillon cubes and water to cooking pot with vegetables. Bring to boil, reduce heat to medium low and simmer, uncovered, for 10 minutes.
Meanwhile, slice broccoli stem into rounds; leave tops whole. Cut tomatoes into eighths. Stem green pepper, remove seeds, and chop. Slice zucchini into rounds. Put broccoli, tomatoes, green pepper, zucchini, corn and peas into a bowl.
To the cooking pot, add vegetables in bowl, herbs, and stir. Bring to a simmer and adjust seasonings. Simmer, uncovered, about 10 minutes longer, until vegetables are crisp-tender. Enjoy!
88 calories, 0.8 g fat, 18.8 g carbohydrates, 3.9 g protein, 4.4 g fiber, 345 mg sodium, 2 Points+
---
$417.94 Buy on Amazon.com
As an Amazon Associate, I earn from qualifying purchases.
---
Want to read about snacks?
Low Calorie Comfort Food - It Exists!
"Creamy" Wild Mushroom Soup
100 Calories of Snack From Russia
Why Don't Americans Serve Eggs Like This?