Brown Rice, Sweet Potatoes, and Red Beans in A Triscuit?
Nabisco is out to make Triscuit into something new.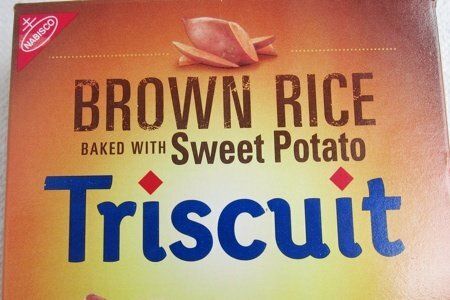 Why? I guess they want to sell more Triscuits and they think we will like them more if they say "brown rice" on the box. I happen to like regular whole wheat Triscuits because they aren't deep fried (like potato chips) and have a nice crunch. I like that they are whole grain and I can eat 9 for 120 calories.
I saw these NEW fangled Triscuits at the end of the aisle, and since I am Snack Girl, I decided to give them a whirl. At first, I thought they were gluten-free (rice, potatoes?) but they have wheat in them. Don't be tricked.
My thinking was that this would be a nutritional improvement on the old Triscuit. - maybe more fiber and protein, and less sodium and fat.
Guess what?
They have more fat than a regular Triscuit, less fiber, and LESS protein. How did they do that when they beans, brown rice, and sweet potatoes? There was a reduction of sodium (50 mg per serving).
Alright, but maybe they taste good. The brown rice ones are still a better choice than potato chips. I tried the "Brown Rice & Wheat Roasted Sweet Onion" that included sweet potato.
Nothing will make you run faster to the Cool Ranch Doritos than the Brown Rice/Sweet Onion Triscuit. The scientific term I will use is "yucky". The consistency was strange and the flavor was a wee bit sweet but lacking in any power. I have rarely disliked a snack more. My son, who is seven, loved these, though. Go figure.
Since these have less fiber and protein, I will stick with my old favorite – regular, boring Triscuits.
Have you tried the new Triscuits? What do you think?
---
Other posts you might like:
---

The quest for the quickest (and healthiest) pizza continues! One dedicated Snack-Girl reader, Theresa, sent me her solution for a pizza makeover after I posted English Muffin Pizza....
---

Snack Girl feels for flight attendants or anyone who has a job that can be incredibly unpredictable. How do they do it?...
---