Chocolate Brownie Cookies Made With Black Beans
I can't get enough of putting beans into baked goods.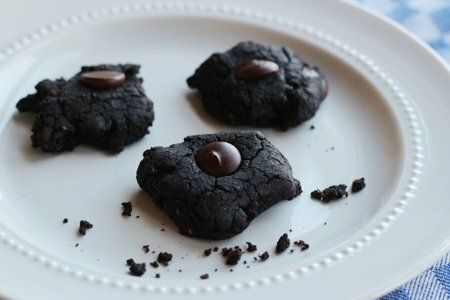 Whenever I see a recipe using beans, I HAVE to try it because so many of them have been successful.
Let us not speak of the ones that fail.
This one is a real surprise because you might think that "bean" cookies would come out like hard like a brick or taste a bit bean like. Nope. They are light and fluffy.
Beans give these cookies fiber, protein, and potassium which can't usually be found in regular cookies.
One of the keys to success here is to use canned black beans with no salt added. I found these in the supermarket and when you puree them – the beans are very bland. I believe this is why you don't detect a flavor.
I used a food processor to make these so these are both fast and delicious. A blender isn't going to work because the food processor turns the beans into a dough.
These do not taste like peanut butter either. They taste like chocolate!
Give them a try and let me know what you think.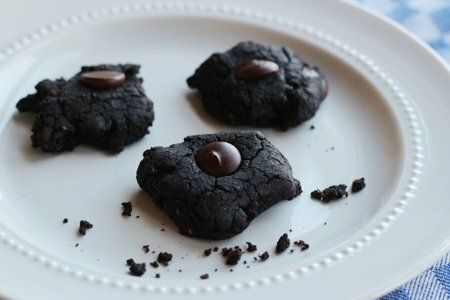 Chocolate Brownie Cookie Recipe

Makes 24 cookies

Ingredients
1 15-ounce can no-salt-added black beans, rinsed
2 tablespoons peanut butter (or other nut butter)
2 tablespoons butter, melted
3 tablespoons whole wheat flour
¼ cup unsweetened cocoa powder, preferably dark
1/3 cup sugar
1 teaspoon baking powder
1 teaspoon vanilla
pinch of cinnamon
1/3 cup bittersweet chocolate chips

Instructions
Preheat oven to 375 F. Blend black beans, peanut butter, and butter in a food processor until beans are pureed. Add flour, cocoa powder, sugar, baking powder, vanilla, salt, and cinnamon and mix until a dough forms.
Stir in chocolate chips by hand and spoon onto baking sheet in 1 tablespoon size drops. Bake for 10 minutes until firm.
Nutrition Facts
For one cookie = 61 calories, 2.6 g fat, 1.3 g saturated fat, 8.4 g carbohydrates, 4.1 g sugar, 1.8 g protein, 1.4 g fiber, 17 mg sodium, 2 Points+
Points values are calculated by Snack Girl and are provided for information only. See all Snack Girl Recipes
Other posts you might like:
---

Every once in a while, Snack Girl can't get enough of a certain food or idea....
---
---
Get Free Email Updates! Yes please!
---