Can You Bake Frozen Salmon?
Can you bake frozen salmon? This is the wrong question.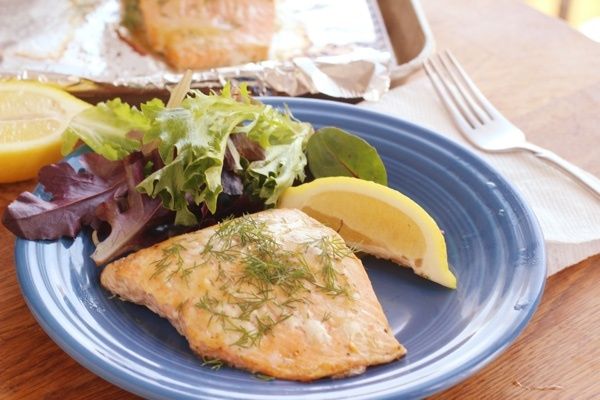 The right question is, "Why haven't you tried baking frozen salmon?". Maybe you are one of those people who always has it together and remembers to take the salmon out of the freezer to thaw.
I am not one of those people.
I am the type to realize that she forgot to thaw her dinner as she walks in the door and begins to dial take-out. Don't do it!
Instead go ahead and bake your frozen salmon. It takes a little bit longer (between 5-10 minutes in the oven) but it is completely wonderful!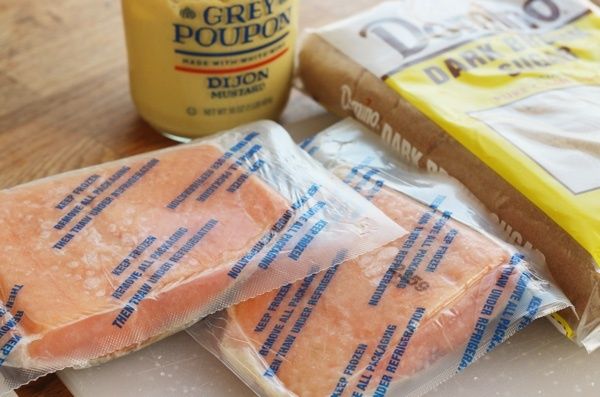 I keep coming back to frozen salmon because it is so good for you and it is farmed sustainably. Check out the Seafood Watch website to learn about the latest sustainable salmon.
Salmon is one of those foods that is high in protein and low in saturated fat. I wish it was less expensive because I would eat it more often. This BBC health benefits of salmon article is an excellent resource to convince you to give it a shot.
I have featured cooking frozen salmon in the oven which is almost the same recipe as this one except it uses dried dill and lemon.
Also, I have a Baked Salmon and Asparagus Recipe which will work with frozen salmon. Just add 5-10 minutes to the recipe.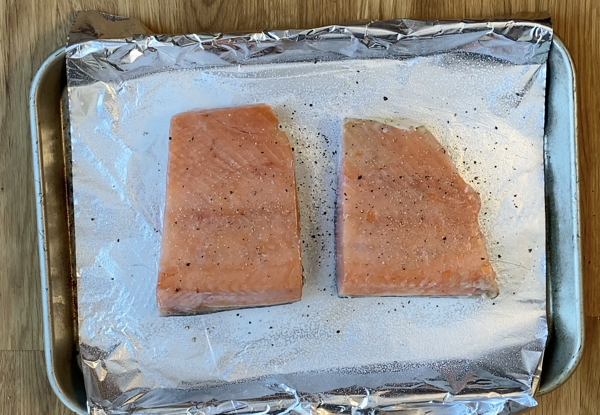 I sprayed aluminum foil with non-stick spray in an attempt to keep the cleaning to a minimum. You don't not have to use aluminum foil or anything under your fish. Do place the frozen salmon skin side down on the tray.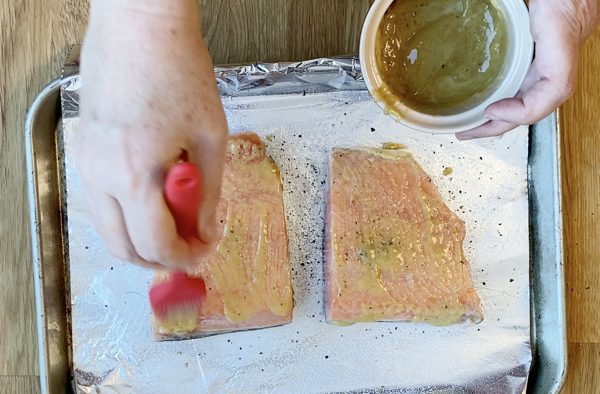 Then you add salt, pepper, and the brown sugar and mustard mixture.
For the mixture of brown sugar and mustard, please adjust for your taste. Some of you may not want ANY sugar at all. I find that a 50/50 blend is pretty good but I also like only mustard when I am in a big hurry. Taste the mixture to see what you think!
It only takes 15 minutes in a 400 F oven for this to cook (maybe up to 20 depending on the oven).
Have you tried to bake salmon from frozen? How did it work out?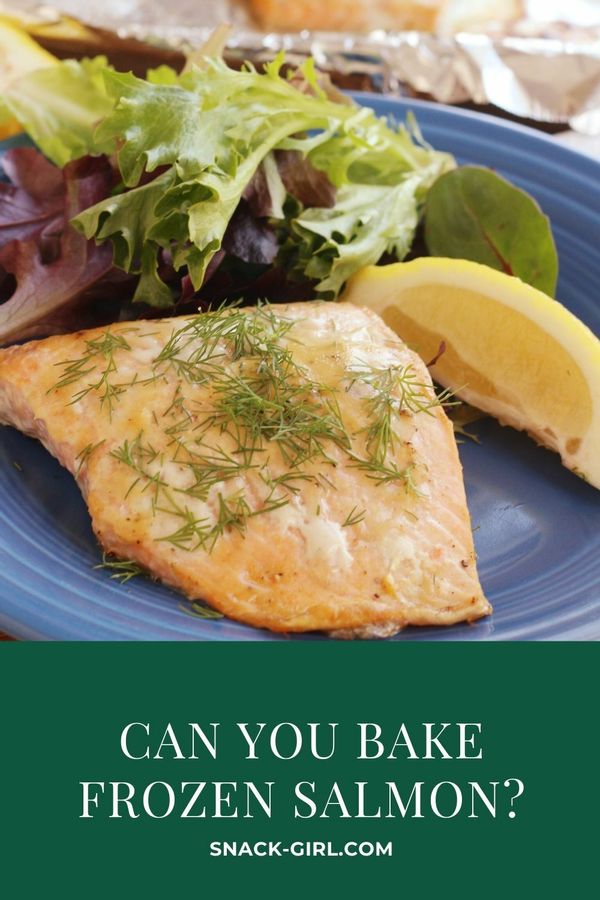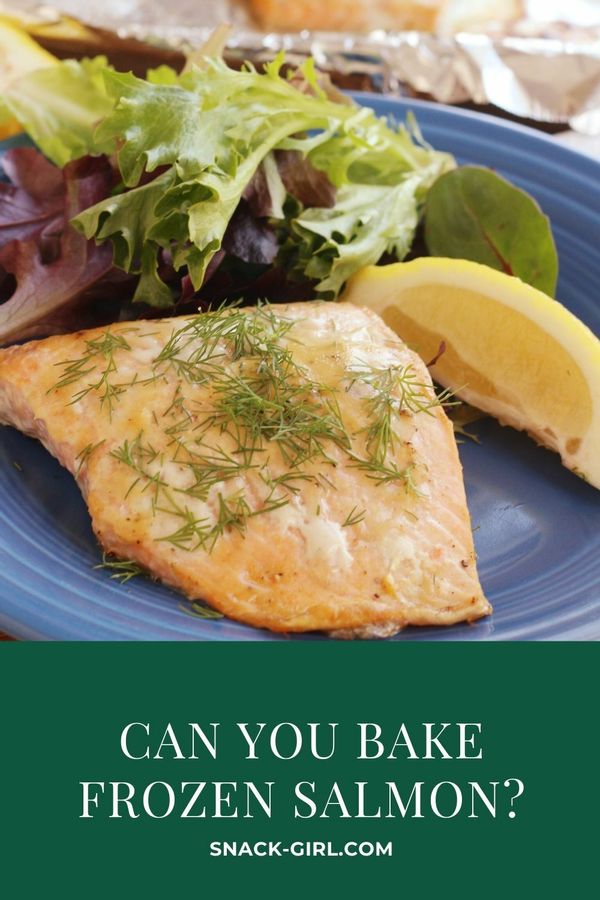 How To Bake Frozen Salmon Recipe
Makes 2 servings
Ingredients
2 tablespoons brown sugar
2 tablespoon Dijon mustard
salt and pepper
2 frozen pieces salmon fillet (about 6 ounces each), with skin

Instructions
Heat the oven to 400 F degrees. Spray a foil rimmed baking sheet with non-stick spray. In a small bowl, mix the brown sugar and Dijon. Place salmon fillets on a rimmed baking sheet with the skin side down. Top with salt and pepper and using a spoon or brush, lather mustard mixture onto the fish. Bake for 15 to 20 minutes until fish is thawed and cooked through. The fish will be a bright pink and a bit flaky. Serve with a salad or side vegetable.
Nutrition Facts
For one salmon fillet = 257 calories, 11.6 g fat, 1.6 g saturated fat, 3.8 g carbohydrates, 3 g sugar, 35.2 g protein, 0.5 g fiber, 257 mg sodium, 5 Green, 0 Blue, 0 Purple SmartPts
Points values are calculated by Snack Girl and are provided for information only. See all Snack Girl Recipes
Other posts you might like:
---

How do you cook salmon from frozen without thawing in the oven? Almost exactly the same way you would cooked thawed salmon....
---

Do you like to get presents? How about opening baked salmon and asparagus?....
---
---
Get Free Email Updates! Yes please!
---