The Truth About Energy Shots
You know, I could really use some wings right now. These legs are just not working for me.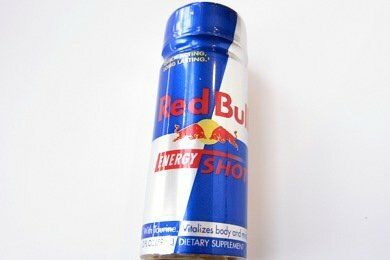 No....wait! I need to "Vitalize My Body And Mind" for just $2.50! Where could I find something so amazing?
How about at the checkout line of every convenience store and major supermarket chain (including Whole foods - yes, I am looking at you, Whole Foods - that "Green Tea" Energy shot isn't fooling anyone)?
Snack Girl has received many questions on "5 Hour Energy Shots" and the other knock off shots such as the one photographed above.
I decided to call Red Bull and ask about the claims made on the side of the bottle:
Improves performance, especially during increased stress or strain.
Increases endurance
Increases concentration and improves reaction speed
Stimulates metabolism
Well, these statements have not been evaluated by the FDA. Huh? Okay, so Red Bull can just put anything on their bottle?
Why not improves sexual performance or ends baldness?
I want a drink that will do windows and makes all the snow in my yard evaporate never to return. Anybody got a drink for that one?
Why can Red Bull make these claims? Well, it turns out there are third party studies that show that Red Bull Energy Shots actually do these things.
So, I took a look at these scientific, peer-reviewed studies, and found that their conclusions - that CAFFEINE, TAURINE, and GLUCURONOLACTONE can stimulate your metabolism etc., is supported by scientific evidence.
Yes, this stuff can make you sharper in the short term.
How many of us drink a coffee before they sit at their computer so that they can write lurid prose on Energy Shots? (that would be me)
So, Red Bull has 80 mg of caffeine equivalent to "a cup of premium coffee" (as does 5 Hour Energy). Monster Energy drinks have 160 mg of caffeine and the only way to get that information is to call them. It is not on their can and not on their website.
Since, I am a coffee drinker, I decided to go ahead and drink this Red Bull Energy Shot and see what would happen. It tastes like Kool Aid, and, frankly, I didn't feel any of the benefits.
Is it really fair to compare "Red Bull Energy Shot" to a cup of coffee? I don't think so.
The reason is that you will slowly sip a cup of coffee and you will chug an Energy Shot. Caffeine is a natural part of the coffee, while the Energy Shot just has some chemical caffeine added. Same drug but different methods of obtaining it.
My real problem with these Energy Shots is that, unlike hot coffee, you could drink 5 of them in about a minute and have a real rush. Why do I know this?
Back in May, I posted this article on Monster: The Worst Snack You Can Drink. In that post, I talk about my experience drinking a Monster and Mountain Dew combo that almost blew my head off.
These "Energy Shots" are simply a way to get a buzz.
For REAL energy - try sleeping, exercising, eating healthy, and meditating.
Please share your thoughts on Energy Shots.
Want to read about snacks?
Panini Extreme Makeover (Take THAT Quiznos!)
Simply Lovely Valentine's Day Breakfast
The Benefits of Cheese Sticks
Love S'Mores? Try This 52 Calorie Treat