The Flavors of Carrot Cake In A Smoothie
Snack Girl is a bit obsessed with smoothies right now. Something about the weather heating up, makes me want to drink frothy drinks.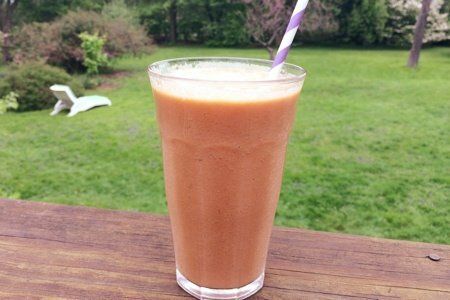 My usual frothy drink does not include carrots or kale, but I am doing my best to try new things.
My last smoothie recipe included a contest. You still have time to enter to win $25 worth of Medjool dates – see You Have A Date With This Smoothie.
I do not have a Vitamix so it is a bit tricky to blend a vegetable as crunchy as a carrot. My blender retails for about $50 and it gets the job done most of the time. Once, I bought one of those $15 blenders at Walgreen's and it was a failure.
The key here is to blend up the carrots before you add any of the other ingredients so they are pureed and can be slurped up a straw.
I like this smoothie poured over ice because it is quite thick and this also allows me to save the other serving for the next day.
My husband did not like this – he said it tasted too healthy ☺. You have to like the carrot/ginger flavor combo to enjoy this smoothie. You can skip the honey if you want it to have less sugar but then it will be less like cake.
This smoothie is healthy – 110% of your daily value of vitamin A, 5% of your daily value of iron, and 36% of your daily value of calcium.
Do you blend carrots? What do you make with them?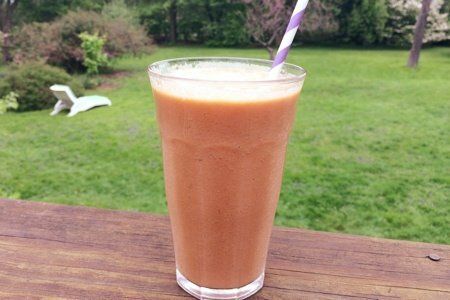 Carrot Cake Smoothie Recipe
Makes 2 servings, 1 ¼ cup per serving
Ingredients
1 ½ cups vanilla almond milk, unsweetened
1 medium carrot, peeled and chopped
1 banana
½ teaspoon ground cinnamon
¼ teaspoon ground ginger
1 tablespoon honey
Instructions
Place carrot and ½ cup almond milk in blender. Blend until carrot is pureed. Add 1 cup almond milk, banana, cinnamon, ginger, and honey and blend until smooth. Serve over ice.
Nutrition Facts
For one serving = 122 calories, 1.9 g fat, 0.0 g saturated fat, 26.5 g carbohydrates, 17.1 g sugar, 1.7 g protein, 3.6 g fiber, 157 mg sodium, 3 Points+
Points values are calculated by Snack Girl and are provided for information only. See all Snack Girl Recipes
Other posts you might like:
---

This smoothie approaches the holy grail of healthy recipes – the treat that is REALLY good for you....
---

Snack Girl has had MANY readers tell her to try "green" smoothies. Well, before last Tuesday, I had one word for them - YUCK!...
---
---
Get Free Email Updates! Yes please!
---