A Grab 'N Go Breakfast With ZERO Added Sugar (and you will love it)
Anybody else sick of packaged cereal bars? But, they are just SO easy and fast.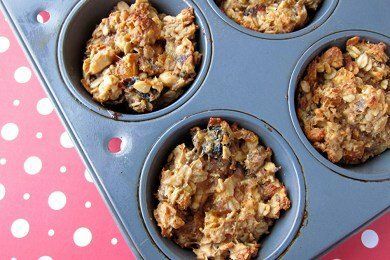 The concept, a delicious bar packed with nutrients to start your day isn't a bad one. The problem is that most cereal or granola bars on the market have a ton of added sugar and they taste kinda fake.
Snack Girl to the rescue!!!
So, I have looked a perhaps 100 different granola bar/energy bar recipes and the ones that I like the best feature ingredients that I already have in the house. But, many homemade recipes also have added sugar. In fact, the recipe I used to use (Energy Bar Recipe), has 3/4 cup brown sugar in it.
What if all the ingredients were unprocessed and there was no added sugar, honey, or maple syrup? Would you get something that tasted yummy?
The problem is that we are so inundated with sugar, that at first a child (or adult) might dislike these because they aren't sweet enough. My 6 year old LOVED these "Cereal Bars" and eagerly ate one for breakfast.
I like them because (basically) this is just fruits and nuts stuck together by nut butter and mashed bananas. These are easy to make and store well in the fridge or freezer.
And did I mention that they are gluten free and vegan? Whoa!
If you like grabbing a bar for breakfast, give these a try.
Also, these could make a great snack, but I wouldn't make them as large. I would divide up the batter into 24 muffin cups and cook them a shorter length of time. This way you get a snack closer to a hundred calories - which is a more reasonable amount.
If you are gluten-free, please be sure to use gluten-free certified oats. Many oats are processed in the same plants as wheat.
Have you tried to make your own cereal bars?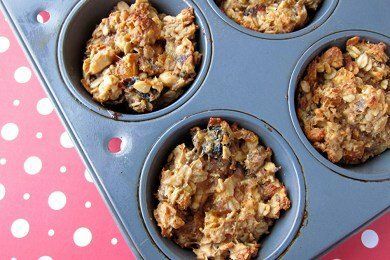 Cereal Bar Recipe
makes 12 granola bites
Ingredients
1/2 cup peanut butter or other nut butter
2 bananas, mashed
1/2 cup whole nuts (choose your favorite)
1 ½ cup total of dried fruits (cherries, cranberries, apricots, raisins, coconut, etc.)
1 cup rolled oats
1 tsp vanilla (optional)
Pinch cinnamon (optional)
1/4 cup pumpkin or sunflower seeds (optional)
Instructions
Preheat oven to 350 F. In a food processor, coarsely chop nuts and dried fruits. Mix nut butter and bananas until a paste forms. Add the rest of the ingredients and mix. Spoon into lightly greased muffin cups and bake for 15 minutes. Can be stored in refrigerator for 5 days.
Nutrition Facts
One granola bite is 190 calories, 8.4 g fat, 26.7 g carbohydrates, 5.4 g protein, 3.1 g fiber, 52 mg sodium, 6 Freestyle SmartPts
Points values are calculated by Snack Girl and are provided for information only. See all Snack Girl Recipes
Other posts you might like:
---

Back in April, Snack Girl posted what she thought was an awesome cereal bar recipe. People complained!
---

Low calorie cereal is easy to make. I know you want to buy it - but it tastes much better to make it........
---
---
Get Free Email Updates! Yes please!
---