The Benefits of Cheese Sticks
The nice thing about individually packaged food is that you know exactly how many calories you are going to inhale.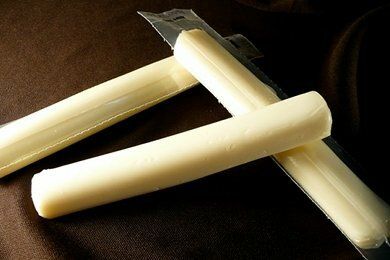 When faced with a large hunk of cheese, Snack Girl usually finds that she has trouble sticking to just one ounce (it just seems SO little).
And CHEESE can be a problem. Unlike radishes, which you can eat as many as you would like and still remain a size 4, cheese will make you wider.
But cheese isn't unhealthy! It has protein and calcium and there are so many different and beautiful varieties. Of course there is saturated fat and it packs many calories so you have to be careful.
Here is the nutritional information in a Low Moisture, Part Skim, Mozzarella Cheese Stick - 1 ounce stick:
90 calories, 6.0 g fat, 1.0 g carbohydrates, 7.0 g protein, 0 g fiber, 190 mg sodium, 2 Points+
Not bad.
In college (back in the Pleistocene again), I was fortunate enough to live in France above a Fromagerie (a store completely dedicated to selling cheese). It smelled like sweaty socks, but I still would go inside.
The shop owner would give me little samples to help me determine which slice I would bring home. Basically, I had a twice weekly cheese tasting that led me to love the stuff.
Now, I am getting off memory lane to discuss the packaged cheese stick.
My son adores these and I want to be clear that this is not "processed cheese". This is actually cheese! For a mozzarella cheese stick, the ingredients are:
PART SKIM MILK, SALT, MICROBIAL ENZYMES
Kraft Singles are a great example of a processed cheese and are a "pasteurized prepared cheese product". You know the orange ones in the plastic sheets?
This is their ingredient list:
MILK, WHEY, MILKFAT, MILK PROTEIN CONCENTRATE, CONTAINS LESS THAN 2% OF SALT, CALCIUM PHOSPHATE, SODIUM CITRATE, WHEY PROTEIN CONCENTRATE, SODIUM PHOSPHATE, SORBIC ACID AS A PRESERVATIVE, APOCAROTENAL (COLOR), ANNATTO (COLOR), ENZYMES, VITAMIN D3, CHEESE CULTURE.
You can even find organic REAL cheese sticks from a company called Organic Valley.
How do they taste? Well, they taste kinda bland.
I like them because I can find them at my local convenience store when I am stuck without a snack. I can just grab one of these and I will feel satiated until dinner.
If you like cheese, this is a great way to have it without over doing it.
Any thoughts on cheese sticks?
Want to read about snacks?
Panini Extreme Makeover (Take THAT Quiznos!)
This Smoothie Will Blow Your Mind
Healthy Homemade Bread in Five Minutes A Day
Love S'Mores? Try This 52 Calorie Treat