Panini Extreme Makeover (Take THAT Quiznos!)
Maybe you like grilled cheese sandwiches? Okay, who doesn't like grilled cheese sandwiches?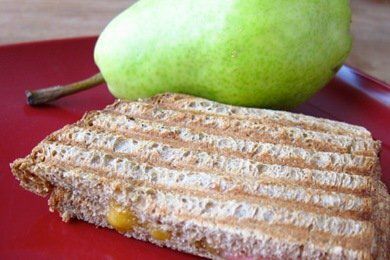 My kids would ONLY eat grilled cheese sandwiches and nothing else if I let them. And the grilled sandwich business is MASSIVE.
Here in New England, I can go to Quiznos, Panera, or D'Angelo's for my grilled Italian sub. And, I would love to go to any of these except that I want to remain my semi-svelte self.
For example, a large Classic Italian at Quiznos will set you back 1110 calories. Yikes! The small is 485 calories and I still think that is a "yikes!".
AND, you have to pay $6 for that bad boy. (and I mean bad :)
So, what to do? First, invest in a panini press (or grilled sandwich maker). I got the Cuisinart one below for my 38th birthday (3 years ago) and it is still going strong.
We use it around here about 3 times a week. It is super fun to use and for the price of 7 Quizos subs - you can make limitless sandwiches.
I also think that this sandwich maker would be a great addition to a dorm room along with a mini-fridge to stop the late night vending machine raids (not that I would know ANYTHING about that since I attended college in the Pleistocene).
There a few keys to a great (and healthy) grilled sandwich:
100% whole grain bread
add a fruit or vegetable
leave off the mayonnaise
The sandwich I made above is only one slice of bread, a couple slices of apple, and about 1/2 ounce of sharp cheddar cheese. The flavor combination of apple and cheddar is so delicious - and having something warm when it is cold outside is comforting.
This sandwich is SO much nicer than a cold sandwich and takes about 5 minutes to make.
Here are some other great sandwich combo ideas:
banana and peanut butter
avocado and turkey
tomato and cheese
Below I have included the nutritional information for 1/2 sandwich (which is a snack sized portion). The calorie range is going to really depend on the bread you are using, but I managed to get my snack down to 144 calories.
My snack is 966 calories fewer than Quizo's Italian Sub - EXTREMELY amazing no?
Please share your sandwich combinations.
---
Grilled Apple and Cheddar Sandwich Recipe

(1 snack serving)
1 slice 100% whole wheat bread
1 apple
1/2 ounce sharp cheddar cheese

Cut bread in half, slice apple and cheese into thin pieces. Using a sandwich maker or fry pan - grill sandwich until cheese has melted and outside of sandwich is crispy. Enjoy!
144 calories, 5.7 g fat, 16.5 g carbohydrates, 7.2 g protein, 2.7 g fiber, 221 mg sodium, 4 Points+
---
currently unavailable Buy on Amazon.com
As an Amazon Associate, I earn from qualifying purchases.
---
Want to read about snacks?
Need Some Intense Dark Twilight Delight?
What To Do With Lots of Celery?
Healthy Homemade Bread in Five Minutes A Day
Love S'Mores? Try This 52 Calorie Treat