Love S'Mores? Try This 52 Calorie Treat
The combination of melted chocolate, graham crackers, and a soft marshmallow is SO dreamy.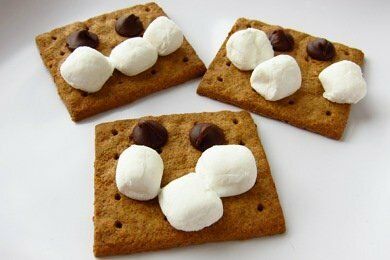 Unfortunately, you are usually talking about 2 massive crackers, a slab of chocolate, and a monster marshmallow which is GREAT if you are 10 years old, but not so great if you are 41.
How do you get the portion size under control so you can still enjoy this treat?
Try a Snack Girl created "Mini S'More". I baked these puppies in my oven and I had a blast making them.
It was almost like I took the time to actually bake cookies! They are warm and satisfying and you don't even notice that they are "mini".
Obviously, these aren't a super healthy snack. They are more like a whole grain cookie if you find a 100% whole wheat graham cracker. The brand I found is MI-DEL Honey Grahams.
These MI-DEL graham crackers (see below) are different than the usual ones you find in the cracker aisle.
You won't be able to slip these into your kids' lunchboxes instead of Nabisco's brand without them noticing, but they have a great grown-up, non-sugary, whole grain, satisfying taste and texture.
BUT, once you add the chocolate and the marshmallow, you don't notice that they are less sugary and the contrast of the flavors is lovely.
This is a great after school snack, or a fun dessert.
I tried making these in the microwave but the cracker lost its crunch. Also, I heated up the crackers a bit before I added the other ingredients so the chocolate would get a head start on melting.
The marshmallows melt more quickly than the chips, so if you skip this step you end up with soft marshmallows and hard chocolate.
The nutritional information below the S'More recipe reflects using a 100% whole wheat graham cracker.
Give this a try and let me know how it goes. Do you have any uses for mini-marshmallows?
---
Mini S'More Recipe
(1 serving)
1 100% Whole Wheat Graham Cracker
3 mini marshmallows
2 dark chocolate chips

Heat oven to 350 F. Place cracker on baking sheet and heat for 3 minutes. Add chocolate chips and marshmallows and heat until melted (about 3 minutes). Enjoy!
52 calories, 1.5 g fat, 9.3 g carbohydrates, 0.3 g protein, 0.8 g fiber, 57.8 mg sodium, 1 Points+
---
currently unavailable Buy on Amazon.com
As an Amazon Associate, I earn from qualifying purchases.
---
Want to read about snacks?
Need Some Intense Dark Twilight Delight?
What To Do With Lots of Celery?
Healthy Homemade Bread in Five Minutes A Day
Gluten-Free Healthy Snacks