Make Your Own Popsicles: "Great Taste...Less Added Sugar!"
Having something cold to refresh yourself on a hot summer day is essential. Snack Girl usually reaches for a beer POPSICLE when she is feeling droopy.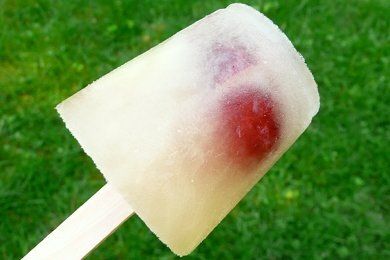 Popsicles are SO easy to make. All you have to do is mix some 100% fruit juice with some fruit and put it in a popsicle mold or a cup. You don't need fancy equipment and popsicle sticks can be found at your supermarket or crafts store.
You are using the natural sugar found in the fruit juice to sweeten these popsicles and they turn out plenty sweet.
When I was a kid, we made popsicles with KoolAid and about 10 cups of sugar. I LOVED those :)
Below I have featured a book called "Pops" which is an amazing collection of ideas for making popsicles. Truly, you will be disturbed by the detail and beauty of these recipes and photos.
Since, I am lazy, I like to keep it simple. Some easy ideas for popsicles:
pureed watermelon
blueberry juice and blueberries
apple juice and crushed strawberries
I made these "Grape Pops" with popsicles sticks that I bought from a craft store (I also saw popsicle sticks at a Dollar Store) and Dixie Cups.
The key to using cups and sticks was that I had to wait 30 minutes before adding the sticks to the cups. When the grape juice got slushy, I could add the popsicle stick and it would stand up on its own. You could also do with with an ice-cube tray.
I have included a link to the most popular popsicle molds on Amazon. I bought some EL-Cheapo ones ($4) at the grocery store and they didn't work properly. If you think you are going to make a lot of popsicles, I say go with the top.
Ever attempted to make your own popsicles? Please share!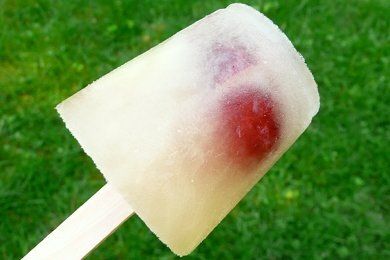 Grape Pops Recipe
(from Pops! Icy Treats for Everyone by Krystina Castella (Quirk Books, 2008))
(makes eight 6-ounce pops)
Ingredients
1 1/2 cups seedless red grapes, cut in half
4 1/2 cups white grape juice
1. Divide the grape halves among the pop molds. Pour in the grape juice and insert the sticks. Freeze for at least 6 hours.
2. Remover from the freezer; let stand at room temperature for 5 minutes before removing the pops from the molds. Enjoy these pops as you would a fine wine.
Instructions
66 calories, 0.2 g fat, 15.7 g carbohydrates, 0.8 g protein, 0 g fiber, 2 mg sodium, 1 Points+
Points values are calculated by Snack Girl and are provided for information only. See all Snack Girl Recipes
$15.95 $9.13 Buy on Amazon.com
As an Amazon Associate, I earn from qualifying purchases.
---
$24.98 ($4.16 / Count) Buy on Amazon.com
---
Want to read about snacks?
French Onion Dip With Zero Guilt
How Important Is It To Buy Organic?
Raspberry Lemonade With 50% Less Sugar From Tropicana: Healthy?
How To Make A Healthy Cake Pop
---
Get Free Email Updates! Yes please!
---