Whole Grain, Homemade Chip: Goodbye Potato Chips!
Chips, why do we love you so? Is it the crunchiness? The saltiness? or the just plain deliciousness.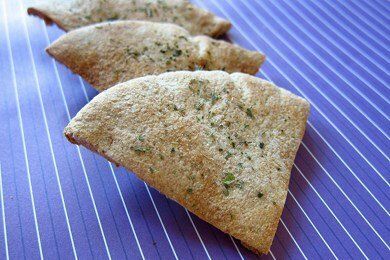 Tortilla chips, potato chips, corn chips, veggie chips - you name it - there is an entire 1/2 aisle of the supermarket DEVOTED to chips and their close relations.
Does Snack Girl want to replace them? No! She wants to keep eating them. Except for one critical fact about chips that I can't get around, chips are perfect. The fact is they are a nutritional void.
Yes, that aisle in the supermarket is a deep black hole of processed grains that will do nothing for your healthy goals. Don't go down it! You may never get out!
And, they are expensive! I paid $3.50 for a bag of my favorite chips. So now I am wasting both my money and my health on these. argh.
What to do?
Well, how about making your own pita chips? I know Stacy's makes pita chips, but that brand is high in calories and low in fiber and protein.
Snack Girl's pita chips are sportin' 6 grams of protein and 4 grams of fiber. Take that Tostitos!!
I had trouble finding 100% Whole Wheat pita bread in my supermarket - Stop & Shop. In front of the deli counter, I found Thomas' Sahara 100% Whole Wheat pita pockets which can be found nationwide.
This brand was a good size and texture for the chips. They come out of the oven crunchy and a bit chewy. They are not as light as tortilla or potato chips and that is a positive attribute.
You have to chew them a bit, and they will fill you up quickly. I used 8 chips as a serving size - but with a small amount of homemade hummus or French onion dip, four would be enough.
One great thing about pita chips is that you can flavor them with your favorite spice combo. My favorite turned out to be salt and pepper. Here are some other suggestions:
Old Bay Seasoning
Herbs de Provence (crumbled a bit - in photo above)
cinnamon and sugar
curry powder
ground cayenne and salt
Take some of your favorite spices and just toss some on your pita wedges.
These will keep for a long time in a plastic container so you can make a bunch and store them.
Have you made pita chips? How do you make them and/or flavor them?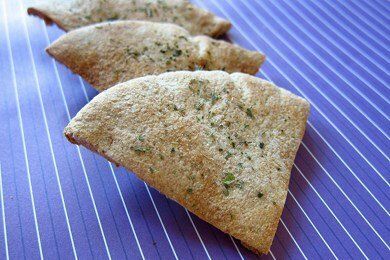 Pita Chips Recipe

(1 serving or 8 chips)
Ingredients
1 small 100% Whole Wheat Pita bread
olive oil cooking spray (or any vegetable oil)
salt and pepper (optional)
Instructions
Preheat oven to 375F. Cut pita bread 1/4 and pull apart bread so you have 8 triangles. Place on rimmed baking sheet and spray with olive oil (a few pumps). Turn over and spray again. Add salt and pepper and bake for 10 minutes. Serve plain or with hummus, onion dip, or salsa.
Sixteen chips will fit on a baking tray if you want to make some ahead. Store in plastic container for a couple of weeks (treat them like crackers).
Nutrition Facts
140 calories, 1.5 g fat, 28 g carbohydrates, 6.0 g protein, 4 g fiber, 320 mg sodium, 4 Points+
Points values are calculated by Snack Girl and are provided for information only. See all Snack Girl Recipes
Want to read about snacks?
Low Calorie Cereal Recipe
How To Make A Healthy Cake Pop
How Important Is It To Buy Organic?
Declare Victory With A Garden
---
Get Free Email Updates! Yes please!
---