The Scary Starbucks Chestnut Praline Latte
Oh yeah. Starbucks is here with their holiday tradition of the MUST have drink.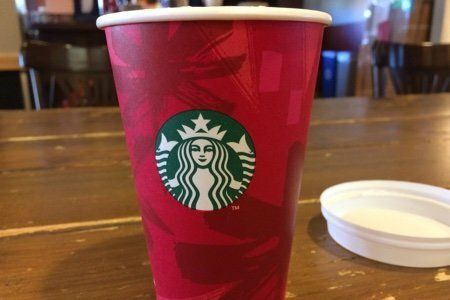 We all know about the white chocolate mocha or the pumpkin spiced latte but THIS, my friends, makes those look like child's play. Yes, Starbucks has reached new heights with its Chestnut Praline Latte.
Honestly, it didn't sound good to me but I have this Starbucks app that invited me to try it (for $4.50) and I couldn't help myself. My big chance to try the latest! I am always a couple of years behind the curve so this was exciting.
When I asked the friendly hung-over Starbucks barista (baristo?) what he thought of the drink he said, "When I first tried it, I thought it was okay. But, I've already had two of those this morning so I guess I really like it."
Ummmm.
The Chestnut Praline Latte is seriously addictive – and if you added rum to it – I think it might be the perfect drink. I was so happy until I made the mistake of looking at the nutrition facts online:
16 ounces is 330 calories, 13 g fat, 8.0 g saturated fat, 42.0 g carbohydrates, 39 g sugar, 12 g protein, 0 g fiber, 160 mg sodium, 9 Points+
We are talking 40% of your daily value of saturated fat and almost the same amount of sugar as a Coke in a coffee drink. Oh dear.
The Starbucks guy had already had 660 calories of this stuff and it was only 9:30 AM!
My advice is to avoid this drink altogether. I am forgetting I ever tried it. If you must indulge in coffee drinks then go with something a bit lighter because we are cruising into the holidays (already an excessive time of year).
I like the "Skinny Mocha" with nonfat milk. Here are the nutritional facts:
16 ounces is 140 calories, 1.5 g fat, 1 g saturated fat, 18 g carbohydrates, 15 g sugar, 14 g protein, 4.0 g fiber, 4 mg sodium, 3 Points+
No, it will never be the Chestnut Praline Latte but at least I can button my pants after I drink it.
How do you deal with sugary coffee drinks?
---
Other posts you might like:
---

This DIY peppermint mocha recipe with save you money and calories! (and a trip to Starbucks).....
---

Some people think fall has arrived when the leaves start changing and apples become abundant. Others know it is here with the arrival of the pumpkin spice latte from Starbucks.
---