Chicken Fajita Recipe: Slow Cooker
This chicken fajita recipe is made in the slow cooker. I know it would be more fun if it was sizzling in a pan but I don't always have time for that.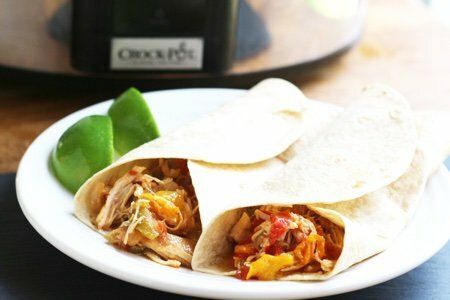 Have you ever been to a restaurant where they show up with a sizzling pan of fajitas? Oh man, the whole restaurant looks up because it smells sooo good. Fajitas are usually a healthier choice because they are grilled and lack the ubiquitous pound of cheese that shows up on enchiladas.
The slow cooker is an excellent tool for cooking chicken breast because it seals in moisture. I love the results with my slow cooker honey garlic chicken recipe and slow cooker roast chicken. You don't have to worry about it drying out!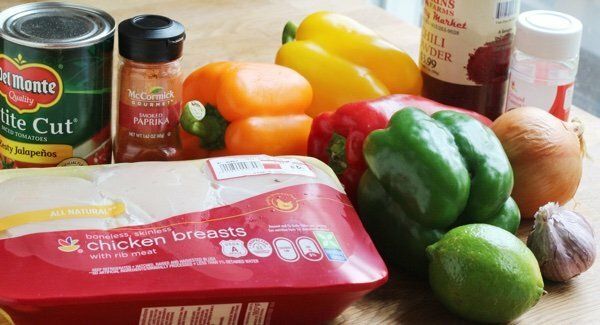 This recipe takes a little more preparation because you slice up peppers and an onion. I used my food processor to make quick work of this.
The first step is to layer ½ can of diced tomatoes with chilis (I used ones that had jalapenos) and ½ of the peppers, onions and all of the garlic.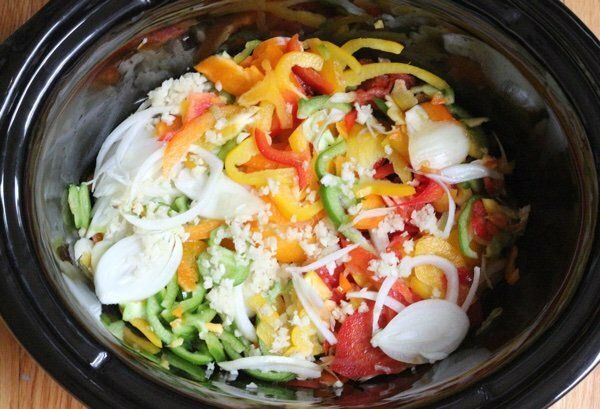 Then you add the chicken breast and spices,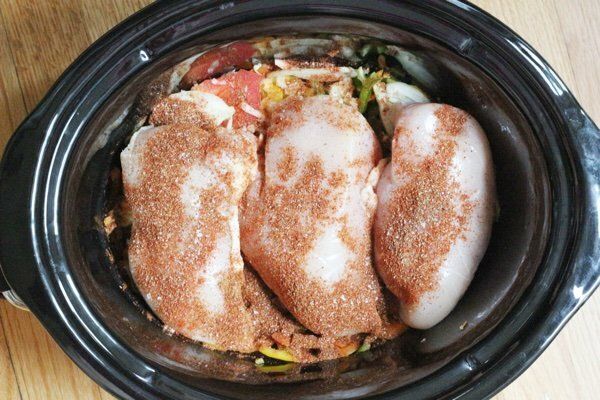 Finally you addand another layer of tomatoes, peppers, and onion. You make a chicken "sandwich" and turn on your slow cooker for 6-8 hours on low or 3-4 hours on high.
What happens is that the chicken is covered and remains moist through out the process and is infused with flavor. This is extremely low in fat (chicken breast is very low in fat) and you wouldn't know it.
I like to serve this in a tortilla or on top of lettuce (taco salad anyone?).
It isn't as crunchy as actual fajitas – the slow cooker turns it into somewhat of a stew – BUT it is very tasty.
You can hit it with some fresh lime juice and a dash of hot sauce for extra flavor.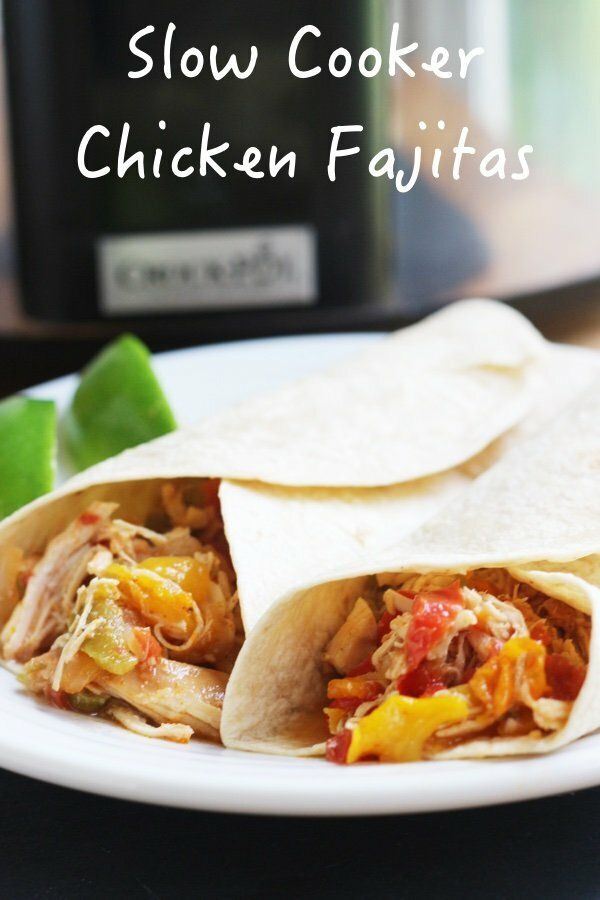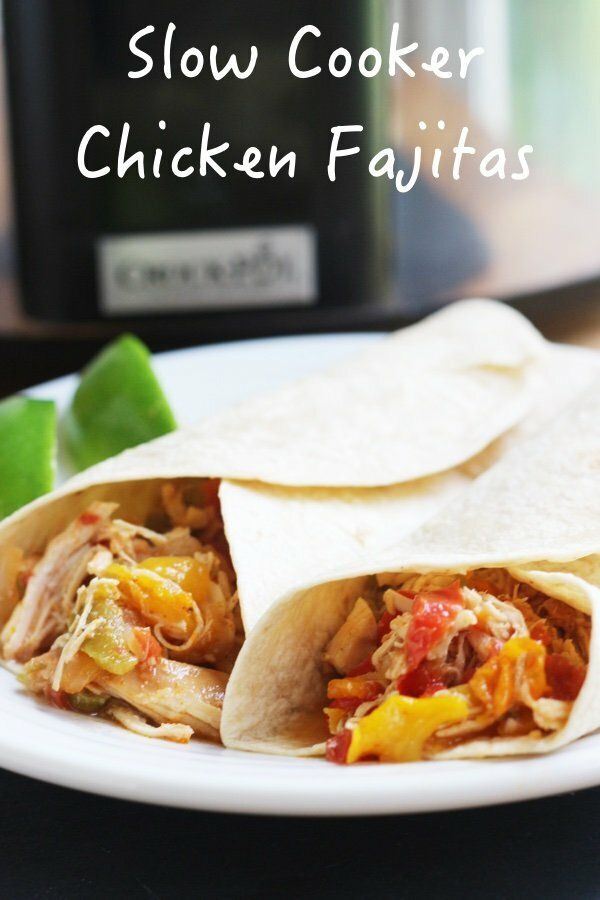 Chicken Fajita Recipe in a Slow Cooker

Makes 10 fajitas

Ingredients
1-14.5 ounce can diced tomatoes with chilis
1 green pepper
1 red pepper
1 yellow pepper
1 orange pepper
1 large onion
5 cloves garlic, minced
2.5 pounds boneless skinless chicken breasts
2 teaspoons chili powder
2 teaspoons ground cumin
1 teaspoon smoked paprika
½ teaspoon salt
½ teaspoon ground black pepper
lime wedges, optional

Instructions
Pour ½ of diced tomatoes into a 6 quart slow cooker. Slice the peppers and onion very thinly using a food processor or sharp knife. Add ½ the peppers and onion to the slow cooker. Add the garlic and then layer the chicken on top. Mix chili powder, cumin, paprika, salt, and pepper in a small bowl and toss onto chicken. Add the rest of the tomatoes, peppers, and onion and cook on high for 3-4 hours or low from 6-8 hours. Serve on tortillas with lime wedges.
Nutrition Facts
For one fajita (without tortilla) = 251 calories, 3.4 g fat, 0.1 g saturated fat, 7.7 g carbohydrates, 2.5 g sugar, 53 g protein, 1.6 g fiber, 390 mg sodium, 0 Freestyle SmartPts
Points values are calculated by Snack Girl and are provided for information only. See all Snack Girl Recipes
---
Other posts you might like:
---

Take-out can be a scary thing. You have no idea how much oil was used to cook your food. Yikes!...
---

There seem to be a never-ending source of recipes that use "cooked chicken"....
---
---
Get Free Email Updates! Yes please!
---