Give Your Popcorn A South Of The Border Spin
Snack Girl is sitting in a sleeting mess of a storm. She is dreaming of white sand and turquoise water.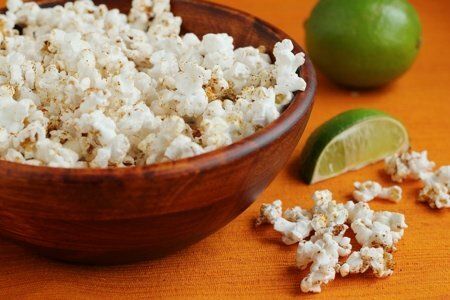 Yes, I like to envision the tropics when my toes become frozen. One of my very favorite dream vacation destinations is in Mexico somewhere around Tulum. To think, all I would have to do is buy a plane ticket and I could be there……
Since I can't afford the ticket, I like to make popcorn that costs me a mere 10 cents per serving. Popcorn with chili powder and lime is MY get away.
This is one of my new favorite popcorn recipes. Check out my other ideas for changing up popcorn:
How do you serve popcorn?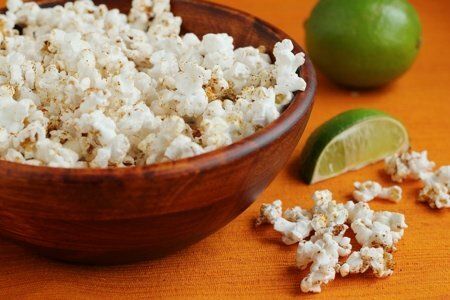 Chili-Lime Popcorn Recipe
Ingredients
3 cups air-popped popcorn (1/4 cup unpopped)
¼ teaspoon chili powder
½ teaspoon ground cumin
¼ slice medium sized lime
salt to taste (see note)
Instructions
While popcorn is popping, stir together chili powder and cumin in a small bowl. Place popcorn in a large bowl and squeeze the lime slice over the popcorn. Toss the popcorn and then sprinkle on the chili powder and cumin mix. Taste and adjust for salt. Enjoy!
Note: Commercial chili powder has salt added to it in different amounts depending on the brand. Add salt to your preference after you mix the popcorn.
Nutrition Facts
104 calories, 1.5 g fat, 0.0 g saturated fat, 21.3 g carbohydrates, 0.6 g sugar, 3.5 g protein, 4.3 g fiber, 11 mg sodium, 1 Freestyle SmartPt
Points values are calculated by Snack Girl and are provided for information only. See all Snack Girl Recipes
Other posts you might like:
---

Popcorn is a whole grain snack that is really low in calories and has that great crunch we crave. But, the packaged stuff in the supermarket is expensive and can be high in sodium....
---

Kettle corn has that perfect combination of crunchy, salty, and sweet that keeps you eating it long after you should stop....
---
---
Get Free Email Updates! Yes please!
---