Chinese Honey Garlic Chicken Recipe
Take-out can be a scary thing. You have no idea how much oil was used to cook your food. Yikes! This Chinese honey garlic chicken recipe will solve that problem.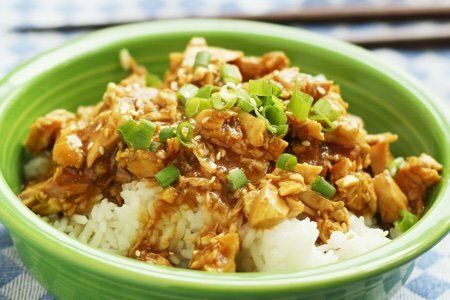 I used to think Chinese-American food was a healthy choice – hey – beef with broccoli – until a Chinese friend of mine explained that restaurants quickly deep-fry the broccoli to make it look so bright and taste so good.
Oh man.
I hate it when I think a food is healthy and then it isn't. Of course, I couldn't stop eating the Chinese take-out broccoli and my own broccoli doesn't taste nearly as good – so I should have known something was up.
So I stopped ordering take-out and tried making my own Chinese inspired dishes. It isn't easy to create them without the sodium getting out of control. So many of the sauces that are used for Chinese-American cooking are really high in sodium.
You want the flavor that you find at decent Chinese restaurants but you can't emulate it without a large amount of sodium.
This recipe turns out okay (not perfect) as it relates to the amount of sodium – but not great if you want to eat more than four ounces of chicken in sauce.
I love this recipe because I can cook a bunch of it and then freeze it for later meals. Reheating it is far faster than ordering take-out and waiting for it to get to your door. You also save a bunch of money and packaging.
My kids love it to eat this dish with rice and I love it (you guessed it) over steamed broccoli.
Do buy bone-in chicken and remove the skin for this recipe. The bone renders the chicken moist and tasty. You can find the Hoisin sauce in the Asian section of the grocery store – it is fairly common.
This is great with sautéed green beans with garlic and/or cauliflower rice.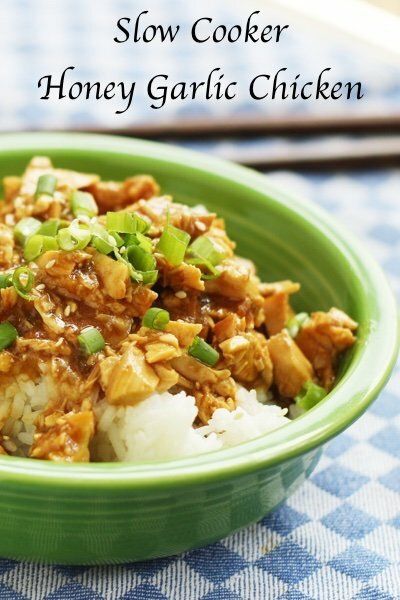 How do you avoid take-out?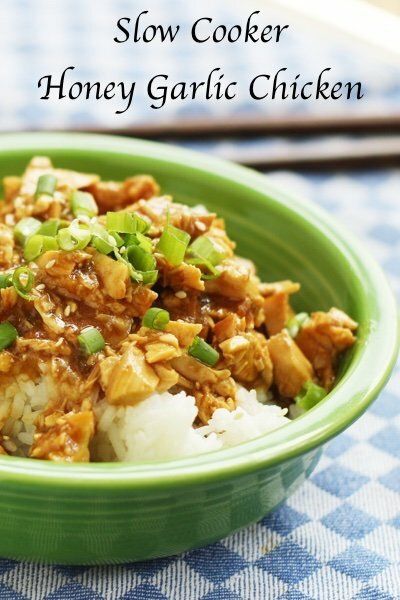 Chinese Honey Garlic Chicken Recipe
Makes 16, 4-ounce servings
Ingredients
5 bone-in chicken breasts, skin removed (4-5 pounds)
¼ cup honey
¼ cup apricot fruit spread or jam
¼ cup low sodium soy sauce
½ cup hoisin sauce
3 cloves garlic, minced
1 small onion, chopped
1 tablespoon cornstarch (optional)
scallions, sliced (optional)
sesame seeds (optional)

Instructions
Place chicken, breast side up, in a 6-quart slow cooker. Mix honey, apricot jam, soy sauce, hoisin sauce, garlic, onion, and ¼ cup water in a small bowl. Pour over chicken breast and cook for 4-5 hours on low.
Remove the chicken breasts and chop or shred meat. Pour sauce into a saucepan and add cornstarch to thicken. Boil for three minutes and pour over chicken breast.
Serve with scallions and sesame seeds as a garnish.
Nutrition Facts
Four ounces is 239 calories, 4.3 g fat, 0.0 g saturated fat, 12.3 g carbohydrates, 9.2 g sugar, 37.1 g protein, 0 g fiber, 395 mg sodium, 5 SmartPts
Points values are calculated by Snack Girl and are provided for information only. See all Snack Girl Recipes
Other posts you might like:
---

Sometimes simple is best as in this recipe for sautéed green beans with garlic.
---

This low calorie rice is a win-win substitute for real rice......
---
---
Get Free Email Updates! Yes please!
---