A new sports drink?
Most of us don't think of milk as a sports drink. The drink aisle abounds with neon colors of Gatorade and Powerade to entice us to recharge after and during exercise. Interestingly, these drinks are formulated like - chocolate milk!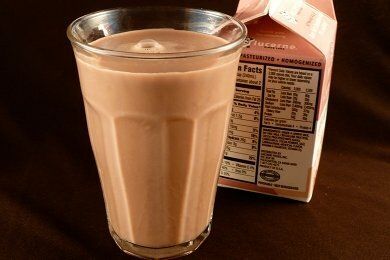 Chocolate milk provides calcium, potassium, iron, phosphorus, sodium, potassium, magnesium, Vitamin D, carbohydrates, fat, and protein.
Why would you want to drink chocolate milk instead of Gatorade? First, it tastes better. Most people love the taste of chocolate versus the taste of chemically fake fruit juice.
Secondly, milk is a whole food. The only processing milk needs is to be pasteurized (and some people even argue with this step). Finally, chocolate milk is usually less expensive than sport drinks.
Isn't chocolate milk just chock full of calories? Compared to a glass of whole milk, 150 calories, you are adding basically the calorie cost of 2 cookies to your milk. Go ahead and drink your cookies and milk (just don't add more cookies!).
Kids love chocolate milk and it is a perfectly fine snack because it is nutritious. Of course, there is more sugar than in regular milk but you could do much worse for a snack. See Oreos, Swiss Rolls, or Twinkies.
The best way to handle chocolate milk with children is to say, "After you eat that apple, you can have your chocolate milk.". It works!
Want more like this?
Chocolate Chip Cookies
Roasted bean juice is a nutritious drink
Would you like chemicals with your cupcakes?