Clam Dip Made Lighter
I am here to say that you can make a lighter clam dip and people will love it.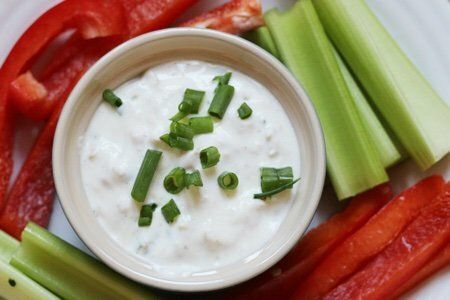 Usually, you use either sour cream or cream cheese with chopped clam to make a delicious but decadent dip.
I am a fan of dips for the holidays because they can be paired with fruit or vegetables. Check out my Pumpkin Dip for Apples or healthy layered bean dip with quinoa for other ideas.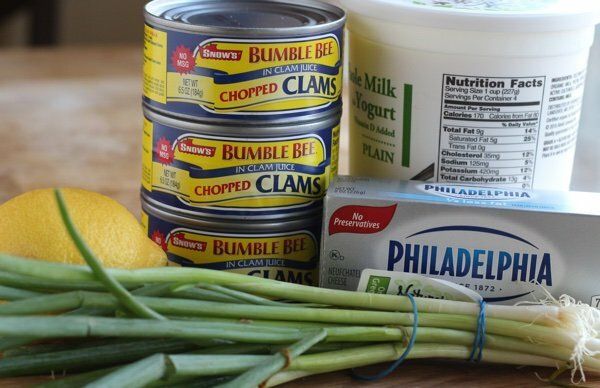 In this recipe, you are simply using Greek yogurt and reduced fat cream cheese instead of the fattier stuff. The result is lighter and I would argue fairly delicious.
This is a bit more liquidy than the classic version. I ate it with celery, red pepper and carrots for a snack and really enjoyed the sour clamminess of it. I think it tastes better after a day in the refrigerator so the clammy taste becomes stronger.
Anything that will get me to eat more vegetables is a plus in my world.
I am not sure why as a nation we turn seafood – which is mostly lower in calories than red meat – into something bad for us. Take a look at deep fried fish! Now that is the way to ruin a perfectly healthy protein source – deep frying it. Can you imagine a deep fried hamburger? I bet you can ☺
If you can find a way to eat clams, crab, oysters, lobster, cod, salmon, mussels, or any of the other wonderful food our oceans offer – you get both a lighter and very flavorful form of protein as long as you don't mix it with a pound of sour cream or mayonnaise (yes, I am looking at you tartar sauce).
One of my favorite appetizers is smoked salmon on crackers. My only problem is that if I put this together, my children start eating it before anyone else can get to it. They have a smoked salmon problem.
What special dip do you make for the holidays?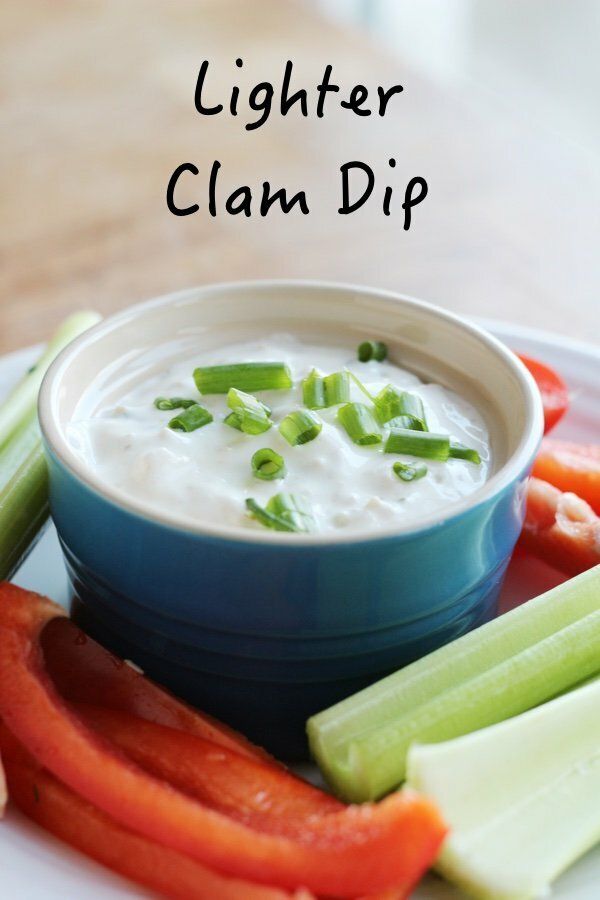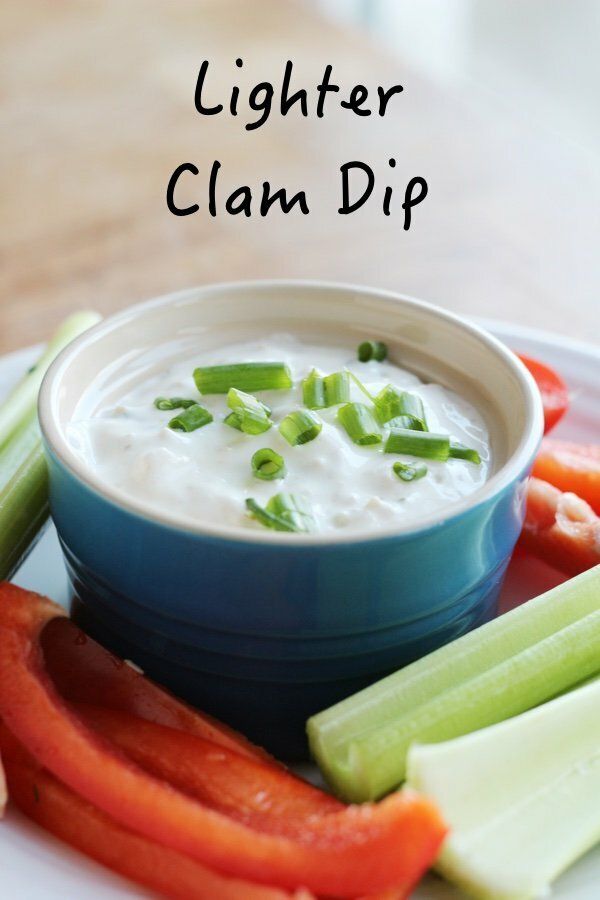 Clam Dip Made Lighter Recipe

Makes 2 1/2 cups

Ingredients
½ cup 2% reduced fat Greek yogurt
½ lemon, juiced
1-8 ounce package 1/3 less fat cream cheese, softened
4 green onions
3-6.5 ounce cans chopped clams, drained – ¼ cup clam juice reserved
salt and pepper to taste
sliced vegetables such as carrots, celery, and red bell peppers

Instructions
Mix yogurt, lemon juice, reserved clam juice, and cream cheese in a medium bowl with a fork until well blended. Cut the green section off of the onions and chop. Add the green onions and clams to the yogurt mixture and add pepper and salt to taste.
Serve immediately or refrigerate for later use. This will stay fresh for three days.
Nutrition Facts
For three tablespoons = 68 calories, 4.7 g fat, 2.9 g saturated fat, 3.6 g carbohydrates, 1.8 g sugar, 3.0 g protein, 0 g fiber, 156 mg sodium, 3 SmartPts
Points values are calculated by Snack Girl and are provided for information only. See all Snack Girl Recipes
Other posts you might like:
---

Are you looking for a healthy dip to serve in a flash? Look no further than this pumpkin dip for apples....
---

Are you doing any tailgating or football watching? Then, you have to try my healthy layered bean dip with quinoa.....
---
---
Get Free Email Updates! Yes please!
---