Using Comfort Food to Sell An Experience
Guess where I took this picture? In front of a bakery, perhaps? Nope.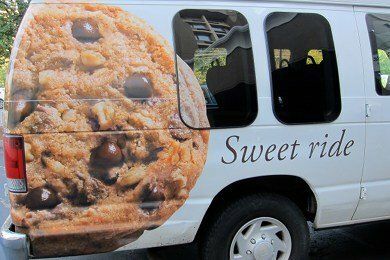 I took this photo at a DoubleTree Hotel which is owned by Hilton Worldwide. Yes, you can get on this "cookie shuttle" and ride around looking delicious.
My family stayed at this hotel for one night, and when we checked in they offered us (you guessed it!) a WARM chocolate chip cookie. Ahem... do I look like I need a cookie?
They have a special drawer where they keep them warm and hand them to guests as they arrive as a welcome. And, I was offered a cookie on a recent trip when I stayed at a Holiday Inn Express but theirs was cold.
When I expressed my shock at the "cookie pushers", my husband said, "What's your problem? Cookies are warm, yummy, and comforting."
My reply, "Would you like it if they put a pack of cigarettes on the side of the bus?". He just rolled his eyes at me.
But you see, he doesn't have a cookie addiction like I do. He doesn't have a sweet tooth, eats healthily, and can turn down FREE cookies without a second glance.
In June, I stayed at a Ritz Carlton in West Palm Beach, Florida. (If you are wondering, a friend won a free night in a raffle.) Do you know what they handed out to guests checking in?
A bottle of water.
So take note, Paris Hilton, I am not going to stay at the Waldorf Astoria (owned by Hilton) ANYMORE. From now on, it is just Ritz's for me :)
Why do we eat chocolate chip cookies? Because they provide comfort - not because we are hungry. They are treats and they are wonderful.
These hotel chains are playing with the "food = comfort connection" and giving us a treat to make us feel special. If you love the cookie, you will probably remember your stay in that particular hotel and make a point of staying there again.
The reason it would backfire on someone like me is that ALL day long I am trying to keep my treats to a reasonable number. Everywhere I turn (especially when I travel) there are confections calling my name.
I don't WANT a cookie shoved in my face - but, I would love a bottle of water :)
What I WILL remember from a hotel stay is cleanliness, comfort of beds, and friendly service - no cookies necessary.
Have you been offered a cookie at a hotel lately? Please share.
---
Other posts you might like:
---

Do you ever feel surrounded by hamburgers and french fries? What about donuts or soda?....
---

Hanging out in the yogurt aisle can make you very cold. Fortunately, I have readers who want to share their yogurt purchasing experiences....
---