A Surprise Ingredient In Stonyfield Yogurt
Hanging out in the yogurt aisle can make you very cold. Fortunately, I have readers who want to share their yogurt purchasing experiences.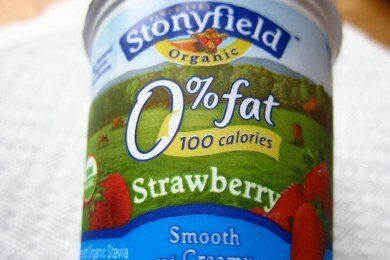 From Leah on Snack Girl's Facebook Page:
I was excited to find Stonyfield fat free yogurt on sale today at Whole Foods. However, when I got it home I noticed that they now have Stevia in the ingredients to bring the fat free down to 100 calories.
They still use organic sugar. The low fat does not feature Stevia. I'm not happy about this at all (I'm a huge Stonyfield fan and the fat free has great flavor choices). Is there any way you can do a post about this? Thank you!
Well, Leah, I went to Whole Foods and purchased the above yogurt for a mere 75 cents and there is stevia in it!
Stonyfield is actually marketing that they have added it on the top of the package: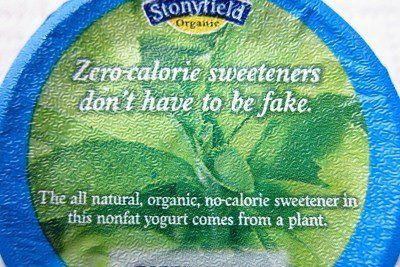 The stevia is organic so that makes it okay, right? Clearly, stevia grown with pesticides and fertilizers is not a good addition.
The addition of stevia to this yogurt makes me a bit sad because Stonyfield is a company that makes an ORGANIC product accessible to millions. Walmart carries Stonyfield yogurt and the movement away from pesticides, hormones, and petroleum based fertilizers is such a good thing for the environment and our health.
Here on Snack Girl we had a spirited discussion on stevia - see:
Is Stevia/Truvia/PureVia A Safe Sweetener?
Group Danone, a French company with 100,000 employees, owns Stonyfield. Did I think that being part of a global conglomerate was going to change Stonyfield? Why, yes, I did.
What is my problem with stevia in the yogurt?
I just don't think it is necessary - there are already 17 grams of sugar (over 3 teaspoons) for 6 ounces of yogurt. That seems like plenty.
It leaves a slight chemical aftertaste in the yogurt.
While the FDA has decided it is safe, I prefer to stick with the sweeteners that I know are safe - honey, sugar, maple syrup, etc.
Stevia extracts are 200-300 times sweeter than sugar - I don't want a super sweet yogurt. I want it to taste like yogurt and strawberries!
Stevia has been used for hundreds of years as a sweetener - but, if we add it to everything, we are going to be eating a larger concentration of it. Could there be a health problem that is created by stevia? I don't know, but I am not interested in doing the experiment on myself or my children.
I have seen it being added to bread, juices, and now - yogurt. Why can't we just have lower calorie food that has less sugar added and tastes less sweet?
My suggestion is to buy plain yogurt and mix your own flavors in it. This way you can control the amount of sugar - and you know what is in it.
What do you think of the addition of stevia to Stonyfield's yogurt?
Want to read about snacks?
Fab Snack Finds For Keeping It Fun
Mix Up These Healthier Corn Muffins In A Jiffy
Five Restaurant Tips For People Who Love Food
The Secret To Making Chicken Breast Taste Much Better Than A Hockey Puck