Mix Up These Healthier Corn Muffins In A Jiffy
Got time to bake? No? Don't worry, Snack Girl has a great tip for making it look like you have time to use that oven for something other than pots and pan storage.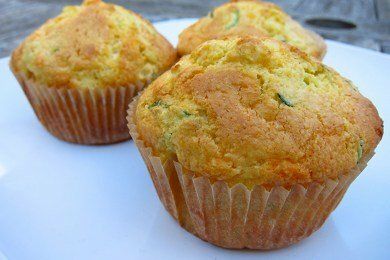 Next to the flour in your supermarket's baking aisle are baking mixes - and one that has been placed there since 1930 is "Jiffy". For a mere 50 cents plus egg and milk, you can make corn muffins.
The foodies who read this site are about to flame me for not making my corn muffins from scratch - and I hear you. But, those Jiffy boxes are so cute and while the ingredients include lard and sugar - I like the way they taste.
(I believe I am not alone in my love for Jiffy corn muffins.)
There are other healthier corn muffin mixes (that cost more) on the shelf. Hodgson Mill makes a corn muffin mix as well that has a much cleaner ingredient list.
My concept is to take the Jiffy mix and make it healthier by adding vegetables. I also added some cheese because I am sending these to school with my kids and i want to give them a bit more protein.
This is a fun and relatively inexpensive muffin that you can freeze and use for a quick lunch, breakfast, or snack.
The sugar content on these is a wee bit high for me to deem these super healthy muffins - these are really a treat with some healthy ingredients (not unlike my black bean - brownie mix idea).
Here are some healthier muffin recipe options with less added sugar:
Have you attempted to alter baking mixes? Please share.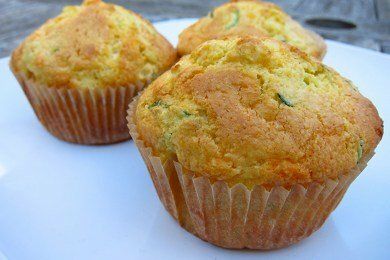 Healthier Corn Muffin Recipe
(makes 16 muffins)
Ingredients
2 boxes Jiffy corn muffin mix or 16 ounces of another brand
2/3 cup milk
2 eggs
1 cup frozen corn
1 small zucchini grated
1 cup grated cheddar cheese (optional)
Instructions
Preheat oven to 400F. Mix all the ingredients together in a bowl. Fill paper muffin cups half way and bake for 20 minutes or until golden brown.
Nutrition Facts
One muffin without cheese = 135 calories, 4.3 g fat, 22.9 g carbohydrates, 2.9 g protein, 0.7 g fiber, 269 mg sodium, 4 Points+
One muffin with cheese = 163 calories, 6.6 g fat, 22.9 g carbohydrates, 4.7 g protein, 0.7 g fiber, 313 mg sodium, 5 Points+
Points values are calculated by Snack Girl and are provided for information only. See all Snack Girl Recipes
Want to read about snacks?
Who Else Lost Their Virginity This Month?
How Frani Lost Over 74 Pounds
Five Restaurant Tips For People Who Love Food
Healthy Baked Oatmeal **VIDEO**
---
Get Free Email Updates! Yes please!
---