What You Need To Know About 50% Less Sugar And Calories In Juices
Every juice manufacturer has been coming out with a version of their juice with less sugar. Personally, I get excited at the thought of any tasty nutritious beverage with fewer calories.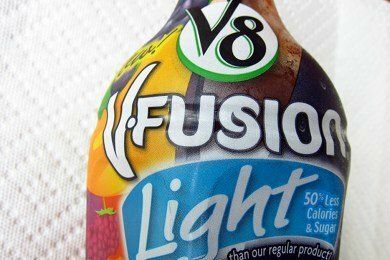 Colleen reached out to me about her latest find. From Colleen:
I'm always looking for a healthy snack, and recently I've been seeing commercials for the V8 VFusion juices that claim to have a serving of fruit & veggies in an 8oz glass.
I've recently tried the "light" version of the juice and wanted to know what your thoughts on it were.
I purchased the "Concord Grape Raspberry" flavor and gave it a try. If there was an award for best packaging - this juice would win! The bottle is like a modern art sculpture devoted to fruits and vegetables.
It does have less sugar in it, which is a good thing. But, Campbells added SUCRALOSE to the beverage to make up for the change in sweetness. The rest of the ingredient list - sweet potato juice, carrot juice, apple and grape juice, water, etc. is clean and recognizable.
Why did Campbells find it necessary to add sucralose? Eight ounces of this drink has 14 grams of sugar! I think it would taste quite sweet without that chemical - but just like the folks at Pepsi with Tropicana Raspberry Lemonade, they decided to add a zero calorie sweetener.
And then there is the claim about a serving of fruit and veggies in a glass of juice. So, it has 1/2 cup of actual juice in 1 cup of liquid. The USDA says that 1/2 cup of juice is equivalent to 1 serving of fruits and vegetables which is why Campbells can make this claim.
But, forget marketing for a second and apply logic. Can 1/2 cup of juice compare with a fresh apple? What about all that fiber you are missing out on for your colon? That fiber helps you feel full and eat fewer calories throughout the day.
What about all the micronutrients and antioxidants?
From MSNBC - Does drinking your fruit and veggies count?:
...studies show that most fruits and vegetables contain antioxidants in the skins and peels, which do not make it into juice.
For example, one study reports that a whole orange contains up to five times more of one major antioxidant than a glass of orange juice. The antioxidant is found in the white pulp and membranes that separate the orange segments from each other.
You are really missing out if you are replacing eating a fresh fruit with a glass of juice.
Finally, there are some products out there that are 50% less sugar and do not have added sugar free sweetener. I saw a Newman's Own Lemonade and Minute Maid Orange Juice had 1/2 the sugar and no sugar free sweetener at the grocery store.
My suggestions for packaged juice consumption:
Buy a 1/2 gallon pitcher, and your favorite 100% juice (apple, grape, orange, etc.) and pour in 1/2 water. Now you have 50% less sugar and you have spent 50% less money!
Check the very bottom of the ingredient list to see if sucralose or PureVia has been added to anything that claims less sugar.
Treat juice like a TREAT, not a serving of fruit or vegetables. Use it to replace soda (which has zero nutritional value).
What do you think of the new "less sugar" juices?
---
currently unavailable Buy on Amazon.com
As an Amazon Associate I earn from qualifying purchases.
---
Want to read about snacks?
Five Reasons To Avoid A Lunchable
How Frani Lost Over 74 Pounds
Comfort Food Made Healthier
Healthy Baked Oatmeal **VIDEO**