Feeling Crabby? Try This Cure
Convenience foods are typically worse for you than food that you make yourself. But, once in a while a product shows up that is truly healthy and helpful to the time-stretched among us.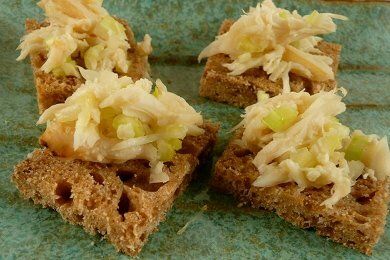 I am talking about crab meat. Before you decide that Snack-Girl has gone "gourmet", take a look at this stuff. You can find it in next to your supermarket's fish area in little tubs.
It is already cooked and removed from the crab so you don't have to do the work (very convenient) and it isn't that expensive.
The crab meat featured here is from Phillips Foods (they have a store locator on their site if you want to know it this stuff is near you). It was tasty right out of the tub.
Crab is naturally high in protein, iron, calcium, and low in calorie. The key to keeping crab meat low in calorie is to stay way from crab cakes. I made this crab salad with really simple ingredients and my friends didn't even know it was low calorie. You don't have to compromise to have something delicious.
What about the cost? The 8 ounce tub of "Special" crab meat cost about $8, but it makes 4 large appetizer servings. The onion, celery, and lemon are cheap so you get an elegant starter for not much, in my opinion. Serve it in a small endive leaf, or a cracker and you will have an amazing treat.
You could also add the crab to sushi rolls (to stretch your $8) and have a couple lunches. The only problem is that once you open the container, you need to use it in a day or the crab will go bad (unlike our McDonald's Cheeseburger)
And if you are green, it is good to know that most crab is sustainably harvested (except for King Crab). If I want to know if I should avoid a certain seafood I check Seafood Watch. Blue crab is not on their list so enjoy!
Check out the Phillips Foods Newsletter. If you sign up, you get a $2 off coupon to try their crabmeat!
---
Crab Salad Recipe

8 ounces cooked crab (special or backfin)
1/4 cup minced celery
1/4 cup minced onion
juice of one lemon (adjust to taste)

Mix ingredients in a small bowl. Correct for seasonings and serve on small bread squares, crackers, or endive leaves.
Do you cook with crab? What do you make? Please share below.
Want more like this?
Sneak Healthy Dip into Your Super Bowl Party
How To Make A Healthy and Glamorous Snack
Turn Cauliflower into YUMMYflower