Sneak Healthy Dip into Your Super Bowl Party
When we think of the Super Bowl, we think of BBQ chicken wings, pizza, 7 layer dip, guacamole, Potato Chips, Doritos, beer, etc. (mouth watering, yet?)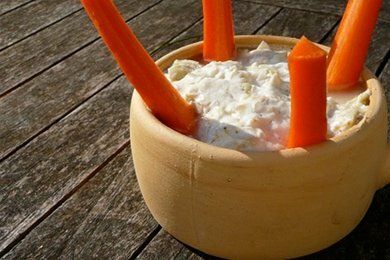 It would be great if you could wave a wand and just change everything to tofu and brown rice, but I believe that someone might lose an arm with such a shift.
So, sneak healthy food into your Super Bowl menu. Nobody has to know your plan.
Go ahead and serve some of the favorites, and then add the dip below. It includes vegetables (onions and artichokes) and a low-fat form of dairy (greek yogurt and parmesan cheese).
Hard cheeses such as parmesan have a naturally lower fat content, so you don't need to buy a low-fat option. Parmesan also has an incredibly rich taste, so you need less of it than other cheeses.
Hot dip usually includes dairy like sour cream and cream cheese, but you won't miss it with these substitutions. It is delicious hot, cold, and room temperature. You can also mix it up before the game and heat it when your ready to serve.
Where did I get the cute casserole? A garage sale - there are always cute casseroles at thrift stores or garage sales. Don't ask me why.
---
Hot Artichoke Dip
Serves 6

1/2 cup low-fat Greek yogurt
3/4 cup grated parmesan cheese
1/4 cup minced onion
1 14 ounce jar or can of artichoke hearts (packed in water)
carrot sticks, celery sticks, and/or healthy crackers

Preheat oven to 350 F. Drain and chop artichoke hearts. Mix yogurt, cheese, onion and artichoke hearts in a small bowl. Spoon into a small casserole dish and heat for 20 minutes (until bubbling). Serve with carrot sticks, celery sticks, and/or healthy crackers.
---
What will you sneak into your Super Bowl Party? Please share!
Want more like this?
A Whole Food Snack of Salty Deliciousness and A Winner!
A Dip that Won't Kill You
Kale Chips