Turn Cauliflower into YUMMYflower
You can eat 2 cups of cauliflower and only add 88 calories to your waistline. Not only that, but the stuff is really good for you. This is one of the vegetables your doctor is telling you to eat.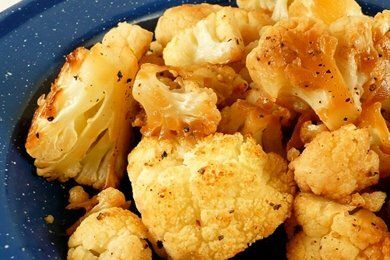 But, it has this odiferous, sulfurous, bitter taste thing going on. And the texture, when raw, is a little strange. If you don't like raw or steamed cauliflower, don't worry. You are part of a large group of children and adults who avoid the stuff.
How do you get it to be enjoyable to eat? Add a teaspoon of sugar and suddenly it is a different animal. That bitter taste disappears and you have this lovely sweet flavor that even a 3 year old would love. I know, because my 3 year old wouldn't stop eating it.
Alex, my 3 year old, is going through an "I only like macaroni-and-cheese phase" now and HE liked this recipe. You can't get a better endorsement than that.
There are two steps to this recipe and the first requires marinating. I know it is onerous to marinate food, but in this case it does make a difference. The good news is you can make a tray of this and it will last all week. The extra work will pay off!
To make this recipe into a more adult flavor, add the pepper. The pepper makes it spicy so you have a sweet and sour taste that is divine. It also makes a great party snack and you can make it ahead and just serve it from the fridge.
You need a rimmed baking sheet to make this recipe work. I have included one below that is commercial quality from Amazon. I use my rimmed baking sheet at least twice a week.
My baking sheet is a workhorse in the kitchen and it makes many roasting vegetable recipes possible. I line mine with aluminum foil because it isn't non-stick so that clean-up is easy. If you don't have a rimmed baking sheet (also known as a hotel pan), I recommend that you get one.
---
Roasted Cauliflower Recipe

(serves 4)
8 cups cauliflower from one large head
1/8 cup soy sauce
1 tablespoon vegetable oil
1 teaspoon sugar
1/2 teaspoon ground black pepper (optional)

Chop cauliflower into small florets. Preheat oven to 450 F. Mix ingredients together in a large bowl and marinate for 20 minutes mixing once. Place on aluminum foil lined, rimmed baking sheet and roast for 20 minutes. Serve hot, cold, or room temperature.
For one serving = 88 calories, 3.6 g fat, 12.3 g carbohydrates, 4.5 g protein, 5.1 g fiber, 509 mg sodium, 1 Points+
---
$35.70 $23.99 Buy on Amazon.com
As an Amazon Associate I earn from qualifying purchases.
---
Do you have a yummy cauliflower recipe? Please share below.
Want to read about more snacks?
DIY Crackers from Sagan
Streamline Your Morning in One Step
Beyond Hard Boiled Eggs