"Creamy" Wild Mushroom Soup
Snack Girl knows she isn't a chef, but she knows one when she sees one (the white hat helps :)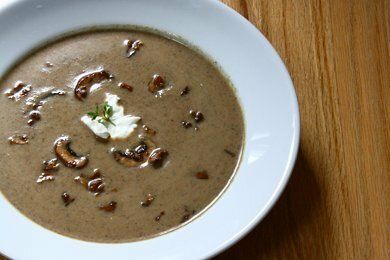 Recently, she met a mother-daughter team that write a blog called Feast On The Cheap. Mariel and Mary Anne are out to convince us that "delicious, healthy, homemade food should be easy and accessible – and shouldn't require a massive bank account".
Ain't that the truth? (and Mary Anne is a chef!)
I saw this mushroom soup recipe and asked them to share it with us because I found it inspiring. You see, I love cream of mushroom soup - just not the calories (or the canned version).
Check out Feast On The Cheap's recipe and post below:
This mushroom soup has all of the richness of a cream soup – sans the actual cream – rendering it a totally guilt-free indulgence.
The trick is, I created a soup-base derived from a French velouté. A velouté is akin to a Bechamel or white sauce and is typically incorporated in almost any cream soup you might find on a restaurant menu.
It's a simple combination of butter, flour, onions or shallots. Hot stock is added all at once, followed by a vigorous whisking and then additional warm stock and milk or cream.
I opted to use only stock plus 1 cup of low-fat milk. The soup base was further thickened by pureeing the mushrooms.
Admittedly, I did add a healthy dollop of creme fraiche before serving, but that's just me. Mariel ate it au naturel, and then asked for seconds!
We enjoyed this as an entrée, but it also makes for a trés elegante first course if you're hosting a formal dinner party (all for under $12).
At first glance, the instructions may appear long and involved but in reality, the soup was whipped up in under an hour. Many of the steps occur simultaneously, using a soup pot for the basic velouté and a sauté pan for the veggies.
one serving = 156 calories, 9.4 g fat, 12.4 g carbohydrates, 6.0 g protein, 2.4 g fiber, 559 mg sodium, Points+ = 4
---
"Creamy" Wild Mushroom Soup Recipe

(serves 6)
1 lb. baby Portobello mushrooms, stems removed and caps cleaned with a damp paper towel – $3.98
1 oz. dried porcini mushrooms, reconstituted in a bowl with boiling water – $3.99
1 cup sweet onion, diced – $0.79
1 clove garlic, minced – stock
¼ teaspoon dried thyme (or 1½ teaspoons fresh) – stock
1 Tablespoon cooking sherry or Madeira – stock
2 Tablespoons sweet butter – stock
3 Tablespoons flour – stock
3 cups vegetable or chicken stock plus 1 cup hot stock – $2.50
1 cup milk, warmed (I used 1%) – stock
2 Tablespoons olive oil – stock
salt and freshly ground pepper – stock
Sour cream or crème fraiche to garnish – optional

Grand Total Assuming Well-Stocked Pantry: $11.26
Total Per Main Course Serving: $1.88
Directions:
1. Prep the Portobello mushrooms as directed above. (Save the stems for another batch of fresh veggie stock.) Soak the dried mushrooms in the hot water to cover for 15 minutes until reconstituted and soft. Save the mushroom soaking water. It will be added to the soup pot later.
2. For the velouté (soup base): In a large soup pot, melt the butter over medium-low flame. Stir in the onion and garlic and sauté for about 10 minutes, until soft and translucent.
3. Meanwhile, bring 1 cup of stock to a simmer.
4. When the onions are soft, blend in the flour and cook, stirring constantly for about 3 minutes. Avoid browning the flour.
5. Remove the onion-flour mixture from the flame and add the hot stock, all at once, whisking vigorously until blended and smooth.
6. Add the remaining 3 cups of stock as well as the milk. Simmer, stirring often, for about 10 minutes. Be careful not to scorch the soup base.
7. Meanwhile, heat the olive oil in a large sauté pan. Add the fresh mushrooms and season with salt and pepper. Sauté over medium flame, stirring often for about 15 minutes or until lightly browned.
8. Meanwhile, strain the dried mushrooms, reserving the soaking liquid. Stir the dried mushrooms into the fresh mushroom mix. (This is at the beginning of the 15 minutes of sautéing the fresh 'shrooms.)
9. Add the sautéed mushrooms, cooking wine, dried mushroom soaking liquid (pour this in carefully and try to leave the sediment behind) to the velouté. Stir in the thyme.
10. Simmer the soup for 10 minutes.
11. Strain the soup into a separate pot and transfer the solids to a food processor armed with the steel blade. (I reserved about 2 Tablespoons of mushrooms for garnish.) Add 1 cup of the hot velouté and puree until very smooth.
12. Return the puree to the remaining velouté and warm over medium heat. Garnish each serving with a dollop of sour cream or crème fraiche and a few reserved chopped mushrooms, if desired.

What do you think? Would you give this a try?
Want to read about snacks?
Need Some Intense Dark Twilight Delight?
What To Do With Lots of Celery?
Healthy Homemade Bread in Five Minutes A Day
Gluten-Free Healthy Snacks