Cucumber Cream Cheese Bites
I am not big on making appetizers because I try not to eat before dinner.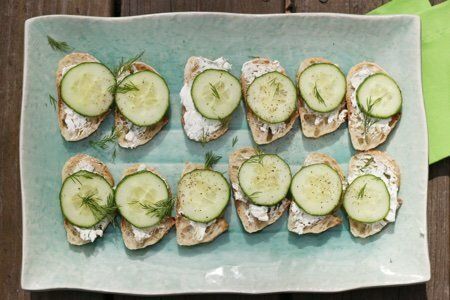 The reality is that I still munch before dinner, usually on the food that I am cooking. I made these for an impromptu Friday night party for my husband and found them to be quite refreshing.
We needed a party because we finally got Snack Girl to work brilliantly on mobile phones. Are you reading me on a phone right now? Well, you can thank Matt for getting it done.
These cucumber bites are light, lemony, and ridiculously easy to make. I don't know if they look sophisticated but I rate them much more sexy than putting out a bowl of chips. I would serve them at a spring party and I bet they would be gone in a flash.
Vote for me to appear on the TODAY show. Thanks if you have already voted! As of yesterday, I am winning. Read this: Vote for Snack Girl!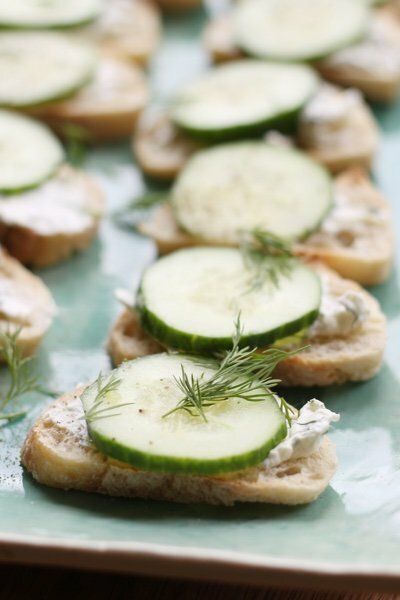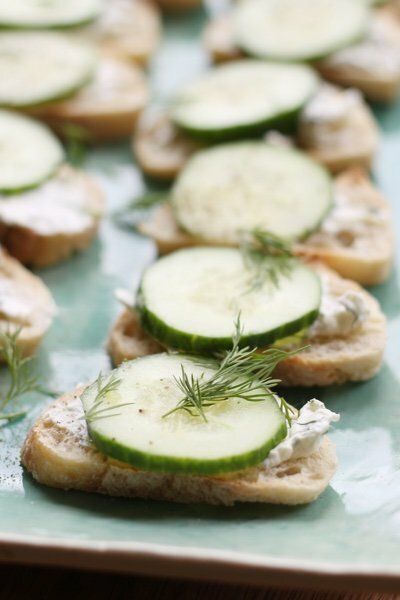 Cucumber Cream Cheese Bites
Makes 24 bites
Ingredients
4 ounces Neufchatel cheese (lighter cream cheese), room temperature
2 tablespoons fresh dill, chopped
½ lemon, juice and zest, finely chopped
24 small slices of bread (I used baguette)
1 English cucumber, thinly sliced
salt and pepper to taste
Instructions
Mix cheese, dill, lemon juice and zest in a medium bowl until blended. Spread mixture onto bread and top with cucumber slices. Add more chopped dill and salt and pepper to taste.
This can be refrigerated for about 8 hours and will not get soggy. I would eat it the same day that I prepare it.
Nutrition Facts
One bite is 27 calories, 1.3 g fat, 0.7 g saturated fat, 3.0 g carbohydrates, 0.5 g sugar, 0.9 g protein, 0 g fiber, 50 mg sodium, 1 Smart Pt
Points values are calculated by Snack Girl and are provided for information only. See all Snack Girl Recipes
Other posts you might like:
---

Simple and beautiful reign! We are into spring and strawberries are happening....
---

There is zero FD&C Red #40 in those lovely hard-boiled eggs. That brilliant color is the product of a natural source.....
---
---
Get Free Email Updates! Yes please!
---