Dieting Not Working? Blame The Diet And Become A Survivor
Snack Girl is one of those people who simply hates diets. Her favorite quote is from Garfield, "Diet is DIE with a T."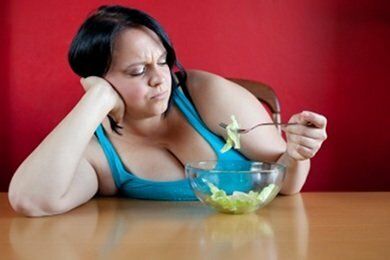 My reason is that all that counting of calories, leads me to want to eat everything in sight. I feel the restriction and then I start to feel hungry all the time!
On the other hand, I have learned a ton from diet books and programs about healthy eating and the number of calories in some of my favorite foods. For example, 260 calories in a doughnut was a REAL wake up call not to inhale them at a moment's notice.
A reader told me about a book that had helped her with her diet failures - "The Diet Survivor's Handbook: 60 Lessons in Eating, Acceptance and Self-Care" by Judith Matz, LCSW and Ellen Frankel, LCSW (see below and Diet Survivors).
I found this book to be very inspiring and helped me to define why dieting does not work for me. Judith Matz, LCSW, director of The Chicago Center for Overcoming Overeating, and co-author of the book was kind enough to take the time for an interview:
Snack Girl: Why is dieting hazardous to your health?
Judith Matz: Unfortunately, about 95% of people who go on diets will gain back the weight – and about one-third to two-thirds of people will end up heavier than before the diet. So, diets often make you fatter!
It may surprise you to know that weight cycling – also known as yo-yo dieting – actually puts you at greater risk of health issues, including heart problems and type-2 diabetes. Since most people go on more than one diet, this is a real concern.
Dieting also leads to depression, lower self-esteem and shame. While it always feels great when you're in the weight loss phase of the diet/binge cycle, when the weight returns, your emotional state plummets.
Snack Girl: What is "attuned eating" and how can we achieve it?
Judith Matz: Attuned eating simply means eating according to your body's natural, physical cues for hunger and satiation. We're born knowing how to eat this way! Attuned eating guides you in deciding when, what and how much to eat, and teaches you to trust your own body's internal wisdom.
When to eat:
To reconnect with your internal signals you need to identify physical hunger – which should feel like an empty or gnawing sensation in your stomach.
Attuned eaters honor their hunger by waiting for the cue of physical hunger to tell them when to eat. They also make sure that they don't ignore their hunger and become ravenous, which sets you up for overeating.
What to eat:
Next, ask yourself what you're hungry for – what would not only taste good, but also feel just right in your body. If you're used to following a lot of rules about what to eat, this can take some practice! If you're having trouble, try asking yourself some questions: Do I want something hot or cold? Spicy or bland? Chewy or crunchy? Protein, carbohydrate of fat?
Let go of the notion that foods are "good" and "bad" because when you try to ignore your craving to eat some pizza, for example, and instead stick to a salad, there's a good chance you'll overeat later to make up for not getting what you really wanted (and what would really satisfy you.)
Instead, keep a wide variety of foods around - including foods that nourish you and meet your nutritional needs - and then pick the food that truly satisfies you.
How much to eat:
If there was a signal of physical hunger to tell you when to start eating, then there will be a signal of fullness to tell you that it's time to stop. The key is to pay attention by being mindful of how your body feels.
You may find that getting rid of distractions while you're eating helps you pay better attention to when you're getting full. You may also want to think about how you'll feel 15 or 20 minutes after you stop eating – and how you want to feel. It's always easier to stop when the food(s) you're eating truly satisfy you!
What to expect:
If you want to become an attuned eater, start by collecting these experiences whenever you can. Don't let yourself turn attuned eating into another diet where the new rule is that you can only eat when you're hungry – becoming an attuned eater is a journey that takes time and practice!
Snack Girl: I think many of us equate thin with healthy. What is your theory regarding "healthy at any weight"?
Judith Matz: The simple truth is that there are people who are thin and healthy and people who are thin and unhealthy, just as there are people who are fat and unhealthy and people who are fat and healthy!
There's no doubt that thinness is usually equated with health – despite the existence of over 40 research studies that show people in the overweight category for BMI (body mass index) actually live the longest - and this is unfortunate because people spend so much time, energy and money on weight loss plans and programs that don't really work long-term.
In the meantime, they may not learn or implement other practices that lead to better health, such as fitness, attuned eating, good sleep habits, and meditation. While weight loss may be a side effect of cultivating these practices, you'll become healthier regardless of whether you lose weight!
Snack Girl: When you struggled with weight issues, did you have an "aha!" moment that you could share with us?
Judith Matz: After many years of trying to lose weight by restricting "fattening" foods, I spent a summer in Boston where I was worked as a waitress at a well-known (and delicious!) seafood restaurant - I also tasted Steve's oreo-cookie ice cream for the first time.
I didn't have a scale or mirror and was so tired of dieting that I decided to take the summer off from my obsessive worries about eating.
When I moved back to Chicago at the end of the summer, I discovered that I had returned to what was a natural weight for me. My "aha" moment was the realization that the deprivation caused by dieting actually triggered me to overeat!
At that moment I made myself a promise: if I ever wanted to eat something and thought I shouldn't because it was "bad," I would go ahead and have it to remind myself that no foods are off limit.
It's been about 30 years since that moment, and I have had a relaxed, peaceful and satisfying relationship with food (and my body) ever since.
Snack Girl: What is your favorite snack?
Judith Matz: As an attuned eater, my "favorite" snack depends on what would be the best match for my hunger at a particular moment! Favorites include: a banana, Dove chocolates with a glass of milk, hummus with carrots, a mini-meal from last night's leftovers, such as an enchilada or piece of lasagna, and a bowl of soup.
Thanks, Judith! Love those snacks and the advice on our relationship to food.
---
$16.99 Buy on Amazon.com
As an Amazon Associate, I earn from qualifying purchases.
---
Want to read about snacks?
Fab Snack Finds For Keeping It Fun
Mix Up These Healthier Corn Muffins In A Jiffy
Five Restaurant Tips For People Who Love Food
The Secret To Making Chicken Breast Taste Much Better Than A Hockey Puck