The Secret To Making Chicken Breast Taste Much Better Than A Hockey Puck
Snack Girl hasn't sucked on a hockey puck lately, but she has grilled skinless chicken breast past the point of edible.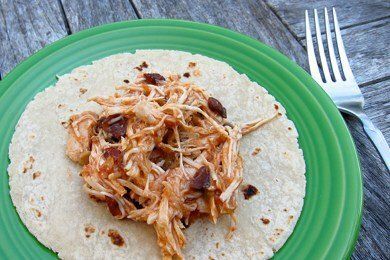 In fact, my husband will not eat skinless chicken breast because he says it is too dry. This is a shame because 4 ounces of boneless, skinless chicken breast is very low in saturated fat and only 128 calories.
A four ounce steak has 224 calories and almost 20% of your daily value of saturated fat (so sad).
When you take the fat out of the chicken, you lose a lot of the flavor and moistness. On the other hand, you get a nutritionist's DREAM because skinless, boneless chicken breast is easy to find, high in protein, and low in fat.
This is the poster child for a healthy meat choice. (I know bacon wasn't even nominated for the poster.)
What to do?
You need to treat chicken breast like any other tough piece of meat and cook it slowly. Cooking it at a high temperature for a long time in a slow cooker allows moisture from the braising liquid to seep in to the chicken.
Basically, you are stewing it and my favorite sauce for stewing (when I am feeling lazy - which is all the time) is jarred salsa. I love this black bean and corn Mrs. Renfro's salsa that is just perfect for making chicken breast into a "Mexican" stew.
We take the stewed chicken and serve it on tortillas with avocado, cheese, diced tomatoes, lettuce and have a taco night. This can be a great snack all on its own - and will completely fill you up until meal time.
For those out there who hate to cook, this recipe isn't really cooking - but it will make you LOOK like you cooked something. You are just putting 2 ingredients (chicken breast and salsa) in a slow cooker and turning it on.
My 5 year old could handle this recipe (if he could just open a jar).
What are your tricks for cooking chicken breasts?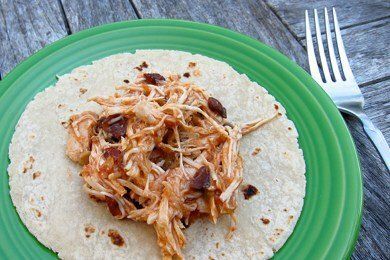 Stewed Chicken Breast Recipe

(serves 8)
6 boneless, skinless chicken breast halves (about 2 pounds)
1 jar thick prepared salsa (high quality)
1 lime (optional)

Coat a medium or large slow cooker with non-stick cooking spray. Add chicken breasts and pour salsa over them. Cover and cook on high for 3 to 3 1/2 hours.
When cooked, shred chicken with a fork and squeeze lime juice into stew. Mix, taste, and adjust for salt. Serve over tortillas or rice.
This stew will keep in the fridge for a week - and will freeze well.
one serving = 139 calories, 2.5 g fat, 1.9 g carbohydrates, 23.9 g protein, 0 g fiber, 326 mg sodium, 3 Points+
Points values are calculated by Snack Girl and are provided for information only. See all Snack Girl Recipes
Want to read about snacks?
Who Else Lost Their Virginity This Month?
How Frani Lost Over 74 Pounds
Five Restaurant Tips For People Who Love Food
What You Need To Know About 50% Less Sugar And Calories In Juices
---
Get Free Email Updates! Yes please!
---