DIY Cereal For A Healthy Snack
National Cereal Day is this Sunday. How should we celebrate? How about making your own cereal? I'm sure the people at General Mills will LOVE this idea.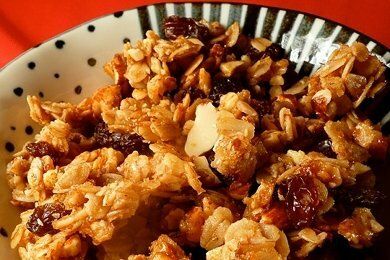 Cereal is the ultimate convenience food. All you have to do is grab a box and put it in your cart. Then, just fill a bowl, add milk, and eat. How simple!
Why would you want to make your own? Well, you will save money. Cereal is expensive for what it is and we can all use more change in our pockets.
In the post on Wednesday: Candy or Breakfast? Evaluate Your Cereal, we discussed that many cereals aren't the healthiest option. The boxes lead us to believe that they are good for us - but they really aren't.
If you make your own, you will know what is in it and not have to worry about its composition. Let's evaluate the DIY cereal recipe below.
1. Is the first ingredient whole grain? Yes, it is whole oats - check!
2. Is the second ingredient sugar? No, it is nuts - check!
3. Is there four grams of fiber? No, there are 3.4 grams of fiber - which is close enough for me - check!

You will notice that this recipe is not low in calories. The oil in it drives the calorie content up, but it makes it taste SO good.
This is a trade-off that I am willing to make because it is so nutritious. Calories should be spent when food is nutritious.
This homemade cereal recipe is adapted from a great kids cookbook. Molly Katzen's, "Salad People", starts at preschool age and is a great way to introduce children to cooking.
---
Homemade Cereal Recipe

(8 cups)
Non-stick spray for pan
aluminum foil for pan
3 cups rolled oats (not instant)
2 cups chopped almonds
3/4 cup canola oil
1/2 cup honey or maple syrup
1 cup raisins or any dried fruit you prefer

Preheat oven to 325 F. Line a large rimmed baking tray with foil and spray with non-stick spray. Combine the oats, and nuts in a large bowl. Mix the canola oil and honey and pour onto oat mixture. Spread on baking sheet and bake for 30 minutes. After it cools, add the dried fruit.
---
$17.99 $13.92 Buy on Amazon.com
As an Amazon Associate I earn from qualifying purchases.
---
Do you make your own cereal? Please share below.
Want to read about more snacks?
DIY Crackers from Sagan
Streamline Your Morning in One Step
Beyond Hard Boiled Eggs